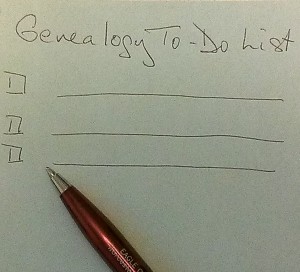 Research
* I am pulling together my Earhart/Hockman information.  I will write a post for this blog about what I know and what I don't know.
* Carry on correspondence with my Denman cousins and continue to try to figure out exactly how we are related.  It appears that there is at least one Denman family line in the United States that is probably related but not from my emigrant ancestor's direct descendants.  There is also another Denman line that emigrated earlier than my line.  This one isn't clearly related to my family.  Although I don't want to start a new project this month, I may decide to do a Denman name study to try to sort this all out.
Organization
* Digital organization continues to be my goal.  And although I worked consistently on it, I didn't accomplish my goal last month.  It turns out that I have pieces of information collected as early as 2008 that have just been sitting in my files not being entered in the database and not providing documentation for events.  Shame on me!  (It also turns out that this is a time-consuming process for me, even just adding the note for the right individual in the database.  I hope I can finish the Boothbys in April – fingers crossed!)
*  As I organize my digital files, I will get a better idea of what basic events I have documented for my direct ancestors.  I already can see that I don't have sources for some of the "information" I have tended to accept as fact.
Education
* Watch at least one webinar.
* I watched the webinar by Lisa Louise Cooke on "Using Google Earth for Genealogy" that was free in the archives at the Family Legacy site.  I have watched other presentations she has done on this particular topic and I always think it looks like a useful and interesting thing to do.  It also looks like it would take a fair amount ot learning to use the application, so I haven't really tried it out yet.  I also watched "Discover Family History Through Gravestones" sponsored by MyHeritage about using BillionGraves and picked up a few more ideas about Jewish graves in particular.