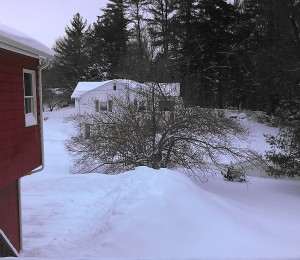 Lots of snow here in Massachusetts, keeping me indoors even more than the cold does, and therefore I am more likely to be doing something genealogical.  I have been working on one of my small projects and started another which is bigger than I had originally thought (isn't it always the way?).
I have been filling in a spreadsheet of my direct Salt ancestors with their vital information (dates for birth, death, etc.) and marking those which I have good sources for.  I continue to be surprised at the close-to-me ancestors (like my maternal grandfather for example) for whom I have no good source for birth.  Since he was born in 1896 in Ohio, I would expect that there should be a birth registry for the county but so far I have had no luck finding it.  Come on, familysearch.org!!  As part of the spreadsheet I am also tracking what records have been entered in Clooz which is where I want to track documents and source

s.  Green in a cell shows I have documentation (or it is a "yes") and red shows I still have work to do.  I already see too many red cells, but it makes it easier to see what work I have to do.  As soon as I finish filling in the spreadsheet I will go back and start entering the rest in Clooz and work on creating a list or spreadsheet of what I need to look for and where.
I also have started on a new family tree for a wedding in the spring.  One of our nephews is marrying and I want to create a family tree for the newly created family as a wedding present.  I did something like this last summer for another nephew and had a lot of fun.  Likewise, this time around is being fun and I am both learning more about the two families but also about an unsuspected connection between the bride and one of my mother's family lines.  In addition, one of the delightful benefits to doing this sort of project is meeting and interacting with the bride's mother (so far in cyberspace) and discovering that she too is the family historian.  Small world sometimes.  I will be working more on this project in February and looking forward to many more exciting discoveries.
My last goals for February include finalizing the transcript I have drafted of the will of William Denman made in 1738 originally, which I found at The Keep in September.  I will also start work, and hopefully finish, transcribing the other will I found.  This one is for Michael Marten and connects him to a William Denman and a Samuel Denman both of whom are described as sons in law.  If I can find the direct link, this William would be the father of my migrant ancestor William Denman.  So I'm excited to get this will transcribed.