On my recent trip to England, we flew into London and spent the first 4 days there.  This gave us time for site-seeing and we had a good time acclimating to the different time zone and accent.
Then it was time to move on.  I had planned that we would go first to Hythe in my quest for information about our Denman family.  Hythe, Kent, England was where William and Ann Boorman lived the first 4-5 years of their married life.  It was where their first 3 children were born, including my ancestor John Denman.  It was where they last lived before migrating to the new country, the U.S. in 1795.  We got ourselves to the Victoria Coach Station, bought a cup of tea and a sandwich for lunch on the bus, and found seats to wait for our bus to be called.
Two and a half ho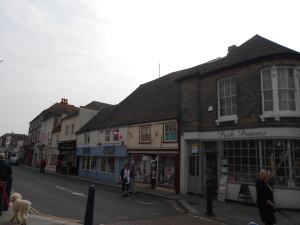 urs later, at mid-day, we arrived in Hythe which is in the county of Kent and right on the English Channel.  Hythe is a small town of about 14,000 residents now, however in 1801 its population was between 1200-1400.  We got off the coach, wrangled our suitcases and looked at Hythe from the ground.  Just a couple of blocks away was the Malt Lodge, where we were booked to stay.  It was too early to fully check in, but they were happy to take our luggage in and since they knew which room we would be in we were able to take care of the formalities and get a key.
We went across the street to check out the Malthouse Arcade, an antiques mall just across the street from the Lodge.  We had tea and a sandwich, browsed a bit and then went out to look at the town.  I wanted to find the Library, since that was my goal for the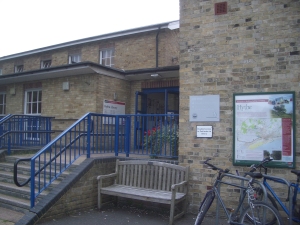 next morning.  I had several items on my to-do list for the Hythe Library, including looking at their microfilms of parish records and whatever other documents might be available on microfilm.   As it turned out, the Library had a small Local History room and the town museum is in the same building.
We discovered that there was a walking tour of the town being offered the next morning, and my sister decided she would try that out while I used the Library microfilm reader and books.  (I was conflicted about this choice since I guessed that a tour with a guide interested in the town history would be interesting and useful.  I hoped my sister would take lots of pictures and ask lots of questions!)
Hythe is a cinque port,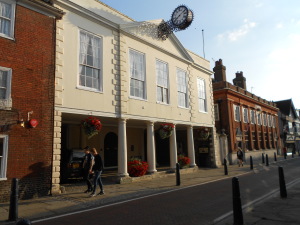 one of the towns that historically helped guard the southern English coast which is closest to France from invasion.  Although it was most active in defense before Queen Elizabeth I's time, with the French Revolution taking place (1789-1799), there were fears that France would turn to invade England.  This may have been part of the young Denmans decision to migrate to the very new country that was America in 1795.  The picture shows Town Hall which was finished in 1794.  The rooms above are where meetings were held.
I have found no information so far that tells why William Denman moved to the coast from his Sussex farming town.  This move took him away from his General Baptist church community.  There is, so far, no documentation of any group moving to the Hythe area at that time and it was a close-knit community.  That was presumably why William went back to it for his bride, traveling some distance to Headcorn to marry in 1790 having already settled in Hythe.
In the Library, I was able to discover several interesting pieces of information.  My first goal was to verify the burial I had been told about several years ago1.   This was the burial of an infant, Richard Denman 3 Nov 1794.  I wanted to see that record for myself and to verify that there was nothing else.  Since I have never seen a Richard said to be a son of William and Ann, I was hoping there might be more.  Richard might have been a child of William and Ann, depending on how old he was when he died, but there was no listing of parents to be found and I did not find any other Denman listings.  (There were listings for four Booremans: 2 burials and one a son of named parents.)  Based on the date of burial, he might have been born to them between their son William (b. 8 Feb 1793) and daughter Elizabeth (b. 22 Sep 1794), although this would have been very close spacing since there were only about 19 months between William and Elizabeth.  While physically just possible, it does seem unlikely.  My tentative conclusion is that it is equally or more likely that there was another Denman family in Hythe at the same time and that Richard was their son.
I also found a book of the poll tax for Knights of the Shire to represent the County of Kent in 1754.  This book listed a John Denman as a freeholder in Kent, as well as 3 Boremans (John and 2 Williams) as freeholders.  Freeholder means that they owned the land as opposed to leasing it.  It is possible that any of these were relatives of my young Denman couple and that this relation encouraged William Denman to relocate to Hythe.  I haven't found any evidence of what William did in Hythe, although I suspect he was a farmer.  Certainly, in New York he farmed.
The last find was a couple of manuscripts, written in 1969 and 1970, by the local Methodist minister about 19th century Methodist history in Hythe.  There were several fragments in these two manuscripts that document the earlier presence of a Baptist community (perhaps before 1800) and tells of a "nice little chapel" used by the Baptists (and was owned by a woman who was a Baptist) before the Methodists started renting it in 1813 or before.  Also found: a reference to the Hythe Methodist Baptism Registry dating to the beginning of required registration in 1837 when all the non-parochial records were called by the Crown to be turned in for safe-keeping.  This first Methodist registry was an old Book of Births and Baptisms annexed from the Baptists who had used the chapel before them, and is said to be in the PRO in London.  Unfortunately I did not manage to get there to look for it myself, but I'm hoping I can track it down online or at least find out if there might be useful information in it about my Denman and Boorman families.
*************************************************
Hythe, St. Leonard 1781-1812 ↩