Sophie was born in December 1909 in Syracuse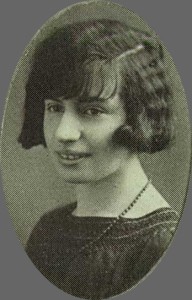 to Chaneh (Harry) Levine and his wife Rachel (Rose) Katz Levine.  I have written briefly about this family earlier (here).  Although they had started out in Syracuse, where Harry's siblings had settled, they moved to Detroit sometime in the early 1910s.  The family was still enumerated in Syracuse for the 1910 census, but there are city directory listings for Detroit showing a Harry Levine boarding with others from 1909.  He may have traveled back and forth for some period of time, figuring out where to move the family to and gaining work.  Of course, there was more than one Harry Levine in the Detroit directories for that time period, so he may have stayed in Syracuse until the whole family moved.
By the 1920 census the family was all together in Detroit and stayed there for the rest of Harry's life and through Sophie's education.  She graduated from high school in 1926 and then worked for several years to earn enough money to go to college.  She told me that she went to the University of Michigan and graduated with a degree in biochemistry.  The 1930 census shows her as a 19 year old, living at home and working as a lab technician at a "sanatorium".  It is possible that this was a TB sanatorium.  Although she talked disparagingly about her father in her late years, her interest in the sciences may well have come from him.  She described him as liking to read a lot and much of it about science.  By 1940 she had graduated from college (I haven't yet found a record for her college career), was again living at home and was reported to be working in a clinic as a bacteriologist.
I think she told me that she had met her future husband, Eduardo Mayea, at the University at some point.  He was a Cuban diplomat from before Castro's time, and must have been the consul in Detroit during those years.  They married in 1946, and sometime shortly thereafter were posted to San Francisco.  They lived in San Francisco, then Spain, and finally Paris.  I was interested to discover that Sophie traveled on her husband's passport and citizenship.  Since he was a citizen of Cuba, and in the U.S. as a diplomat, there would have been no question of his naturalizing.  I have not yet discovered whether she was required to give up her citizenship legally or whether she did/had to because of his diplomatic status.
In the Fall of 1961, they decided that they could no longer support the Castro regime and defected.  Eduardo was dishonorably discharged by the Cuban government for his relations with the U.S.  Sophie and Eduardo returned to the U.S, and spent some time in Detroit, probably to see Sophie's siblings and mother.  They then moved to Miami in the mid 1960s and Eduardo became a U.S. citizen in 1967.  He then prepared to take on a role for the United Nations in Ecuador.  The sad end to their marriage was that he suffered a stroke while they were flying to his new post, and he died in June 1968.
Eduardo was buried in Michigan and Sophie moved back to the Detroit area, to live with her older sister who was also a widow.  They lived together for the rest of Mary's life.  Sophie lived another 31 years remaining active socially and politically until just before her death in December 2012 after her 103d birthday.
..