Having been freed from taking care of her sister and young nephew, Laura was ready for other employment.  She was fairly quickly able to find a job teaching, first the summer term at a school district in one near-by place and then the winter school of another near-by district.  She was pleased to do the winter school.  ".. entered upon its duties with more enthusiasm as the more advanced classes were in attendance upon the winter schools and teaching the higher branches was more suited to my taste."  Laura's goal was to teach this year to replenish her purse, and then to go back to Oberlin for another year in College.
Laura described the changes she found at the college having been away for two years.  "…some of my acquaintances for former years having graduated and gone out into the the
world to take up their life work while others, in the last year of their course, would soon depart, some as missionaries, others as teachers, and all with some definite idea in view of being useful citizens."  Laura boarded in the Ladies' Boarding Hall for this year.
Likewise she found "many changes have taken place in the boarding hall during the past two years.  Mr. and Mrs. Fairchild who had charge fore several years had been excused from further labors in that line on account of advanced age and their places filled by Mr. and Mrs. Wright; while the baker who make the bread and pies for the boarders, including the ladies who roomed in the hall and the young men who roomed in the dormitories and came there for their meals, had left and his place was filled by a young man from New York City by the name of J. Dolson Cox."  Laura went on to describe the career of this young man, who married the College president's daughter, studied law, went into the army in the Civil War and became a prominent general.  He then had a long career in government, serving as a Governor of Ohio, and Secretary of the Interior among other positions.  Laura concludes: "This incident is related to show that a young man of high ideals and ambitions may attain the height of his ambition altho hampered by want of means to carry out his educational desires."    Her third year at college ended, Laura went home and spent her winter vacation nursing family members who were down with typhoid fever.  She was more than ready to return to college in the spring, concluding that nursing would not be her choice for her life work.
She boarded this last year at the home of Mr. Wyatt, rooming with his "lovely daughter Ann".  This young lady was described as "one whose virtue might well be imitated and woven into the character of any young person.  Being slightly deaf she declined the marriage relation and in later life accompanied her niece and husband to China.  They were missionaries and were there just before the Boxer troubles.  She returned to Ohio where her last days were spent."  The specific names and details of this young woman's life made me curious.  I did a bit of research and discovered that the Wyatts were from England, having migrated to Ohio fairly recently when Laura boarded with them.  Anna Wyatt was a teacher for a number of years before going to China, showing up in the 1880 federal census as a dancing teacher, living in a household with a younger couple who may have been the niece and her husband.  The Boxer "troubles" were a rebellion against foreign influences which began about 1899 so Miss Wyatt  and her niece and husband probably returned home to Ohio shortly thereafter.  I found her death in 1902 indexed on familysearch.org, and sure enough she was listed as a missionary.  I have not yet found her entry (or the niece and husband) back into the United States and she doesn't seem to be enumerated in the 1900 federal census.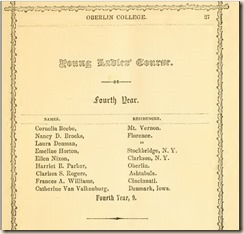 But I have digressed.  Laura went on describing her last year as a student:   "…wishing to make the most of my time, I took up as many studies as I felt able to carry thru. …The usual routine of study, recitation, chapel exercises, and so forth occupied the time of this year until near its close the task of writing the commencement essay loomed heavily over the horizon.  The idea of reading an essay before the thousands of people who congregate in the the great Tabernacle Church at Oberlin on commencement day was terrifying in the extreme, but it must be done!"  Laura described struggling to come up with a topic for her essay and then struggling to write an acceptable product.  Her advisor/mentor, Dr. Monrow*, was a strict taskmaster by her description but she finally met with success in producing an essay.  I wish she had noted the subject of her essay but she did not.
"Soon the eventful commencement day rolled round and the class of 1853, consisting of ten members†,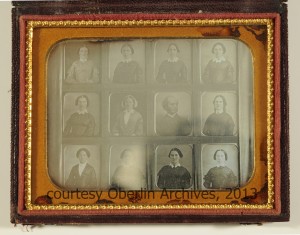 was called upon to read those essays, so laboriously prepared, before the assembled multitude who had gathered to listen to the efforts of this class." …"One of our number being an ardent women's rights person (as the suffragists were called at that time) requested the privilege of delivering her essay in oratorical style, but was denied the privilege as being an infraction of the rules of the college.  So she quietly yielded, but on commencement day, but lo! when called upon to read, she rose and with paper in hand delivered an oration (occasionally glancing at the paper) which for originality and depth of thot had not been equalled by any of the masculine orators for years.  Coeducation, it must be remembered, was in its infancy and it took time to work out the new ideals pertaining to such a change."
And with that, and commencement days over, Laura returned once more to her home "there to await a call to teach.".
**********
*Note that Laura spelled his name Monrow but the listing in the Oberlin Annual Catalogue 1820-1862 spelled it Monroe.
† Note that Laura said there were 10 students who graduated, and the composite picture, kindly provided by the Oberlin Archives, shows 10 young ladies along with Dr. Finney the College president and Mrs. Dascomb, the Principal of the Female Department.  However, the listing of the 4th year students in the Oberlin Annual Catalogue 1850-1862 for 1852-1853 shows 9 young women.  A mystery to be solved in the future, I hope.