At this point in her memoir Laura seems to have been ready to be done with the writing project, and much of the rest of her story was condensed (relative to the amount of detail in earlier pages).  She dealt with her year and a half stay in Ohio, and with the Civil War in parts of a few brief paragraphs (her younger brothers' participation as well as J.W.'s) and then the assassination of Lincoln all in less than two pages.  [While she dealt with the Civil War so briefly, there are several interesting tales that she alluded to.  I suspect I will come back to this period of time once or twice and write more fully of these times and the Denman and Booth families.]  She wrote about one page on the family's return trip to Golden from Ohio, which was faster and somewhat easier than the first trip West behind the oxen.  She brushed by the next 4 years in Golden spent gardening (one daughter – unnamed but it was Laura Dell – was born) and wrote of J.W.'s committing  them to an enterprise in southern Colorado, taking care of a herd of cows for absentee owners at Turkey Creek ranch.  Of that ten years Laura wrote: "I will draw a veil over the ten years of existence at the Turkey Creek ranch as nothing of importance occurred except the advent of another daughter, Carrie May, whose coming was truly a blessing to us in our lonely retreat."  It sounded as if Laura was not happy about pulling up stakes and moving away from the amenities of Golden.
Following that relatively unsuccessful venture, the Booth family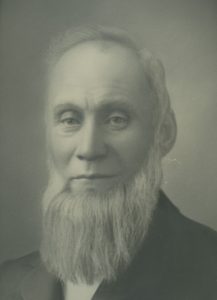 moved to Pueblo for a time and then to a ranch outside Pueblo where "my husband engaged in gardening for a few years."  Meanwhile the children were growing up, being educated, and marrying.   The gardening lasted until the infirmities of age brought J.W. to the point of not being able to carry on the business and they turned it over to a son-in-law, M.H. Claypool, and moved into town.  Laura writes that "we spent two years of happiness in freedom from care and anxiety, when alas! my dear husband received the summons to go hence and departed this life on the tenth of May, 1904, leaving me to pursue life's journey alone.  Together we had traveled forty-nine years and seven months."
For the next 8-9 years Laura stayed in Pueblo, having grown children in the area.  She had increasingly bad health, however, particularly in the winter.  So when daughter Nettie Myers told her of their plans to go to California for the winter of 1912-1913, Laura decided to join them.  They spent that first California winter in Pasadena, and the climate did allow much better health for Laura.  She and the Myers liked it so well that they decided to make it a permanent move and Laura went back to Colorado to settle up her business there and then returned.  Over the next couple of years they tried several locations for winter and summer, finally settling in Claremont.  They liked the advantages of a college town (Pomona College where granddaughter Elsie graduated in  June 1919) and Laura and her now-widowed daughter Nellie planned to stay.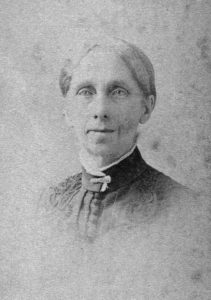 And so Laura ended her tales, "having been led by an unseen hand thru these varying, shifting scenes of life, and having reached the age of ninety-one years, I await the call of the Master to enter into that rest prepared for those who love and serve Him here."  One of the two typescript copies of this memoir is signed by Laura and dated September 6, 1919.  She died in February 1920.