The first teaching job Laura was offered was in Homer, Licking county, Ohio.  The typed transcript I have of Laura's memoir says it was Horner, but that was undoubtedly a misreading of her handwriting.  The very small community (an unincorporated community) she went to is named Homer (birthplace of Victoria Woodhull).  "Arrangements were made for this school to commence early in November and to continue for four months at the unheard rate of eighteen dollars per month.  My father had cautioned me not to set my price so high that they would not consent to such an exorbitant price.  I replied that my education had cost both time and money and must be rewarded by a suitable wage."
Laura's description of the train trip to her new teaching post described a little train that stopped at every little station and took a lot of time getting started again, so that the trip took much longer than she had anticipated.  In addition the rain came pouring down.  "Then occurred to me the prospect of arriving at my destination at a late hour of the night in a strange town with no one to guide or direct me to a hotel.  Oh horrors!  What should I do?  Not long, however, did I puzzle over the problem but just waited as patiently as possible while the train sped onward as the pace of ten miles an hour; and so at midnight she pulled into the little town of Utica."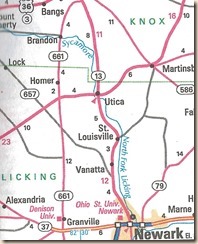 Here there was no depot, only a platform; the rain was still coming down.  There was no one to meet her since the train was so far behind time.  "I laid my case before the conductor who went out on the platform and brot in a man whom he told to show me to a hotel."  Laura followed the man, who had her handbox, through dark streets to a house where there was some sort of gathering and the man asked another man there to show her to a hotel.  This man took her satchel and walked her through further dark alleys and streets to the main street of the town and finally to a building said to be a hotel.  Laura ended up in a large dormitory sort of room with a number of beds, and "laid down to await the coming of dawn which could not be far distant by this time.  And so, after shedding a few tears in  pity for myself in this sad plight, I quietly gave myself up to the embrace of Morpheus"
Her luck changed in the morning as she looked out on the street and recognized the store of the father of two college friends.  She went into the store, met the brother of her friends, and was speedily taken in by the family.  There she learned that the people who had been looking for her on the train had waited until midnight and then given up on the train arriving.  "In those days there was no telegraphic communication to tell when trains were due."
All's well that ends well, and Laura settled in to a school with about 40 pupils of all grades.  She noted that the people there in central Ohio were very different from those of New England descent who she was used to in northern Ohio.  Many were from Pennsylvania (as my mother also noted in Canton where she was raised).  Laura reported that they were mostly Presbyterians and that they observed the Sabbath from sundown Saturday night to sundown Sunday night.  This meant putting down all the usual work and going to church.  "Then at the close of the Sabbath service and the sun went down the knitting was resumed and other labors take up the same as any week day."  During her time in Homer she was able to attend the State Teacher's Association at Columbus which occurred around the holidays when the school was on vacation.  This refreshed and renewed her interest in her profession and she finished out this term with a last day of school demonstration for all the parents.
The next job to come her way was at a new college in Iberia Ohio, which she said was in the southeastern part of the state but was actually in central Ohio in Morrow county.  Iberia College had only been in existence one year; a young minister named Bigham was in charge along with a young woman teacher, Miss Butler.  At the end of that first year the school needed a new instructor since apparently Miss Butler had in mind a different type of school than the founders.  Laura didn't write much about her teaching experiences here, but reported about the president pro tem, and the churches in the town.  She also told a story about a young lady who suffered the unexpected loss of her fiance to another woman.  Her disappointment and grief were so severe that they "brought her to an early grave".
As a Denman cousin noted to me in an email, Laura didn't include much detail in her memoir about her family of origin, usually only mentioning siblings as brother or sister but not by name.  This lack of detail extended to her meeting Joseph W. Booth and their courtship. At the end of her memoir about her childhood days, Laura wrote two short paragraphs about the end of her teaching days and their marriage.   "In the fall of 1854, I took my leave of Iberia College and returned to my northern home, there to prepare for my marriage to Joseph W. Booth of Columbus, which was to take place in the early days of November.  Busy, happy days were these, tho tinged with sorrow at thot of leaving the happy home nest."
Family lore tells us that J.W. fell in love with Laura through the letters she wrote for her sister to her sister's husband, Dr. Parker.  J.W. and his brother Henry had both gone West in about 1850-51 with Dr. Parker and others from Ohio.  J.W. and Dr. Parker worked the placer mines for several years and it was probably during this time that J.W. would have had the opportunity to hear Laura's letters to her brother-in-law.
"The 7th of November, 1854, soon rolled round and we were united in marriage by Prof. Munrow of Oberlin College in the presence of about forty relatives and friends.  Our honey-moon was enjoyed in fitting up our cozy little home in Columbus, where we spent one year of happiness before entering upon our pioneer life—the following chapters of which will give the reader some idea of the trials and hardships we encountered as we made our way toward the setting sun."