Two weeks ago I got an email that there was a comment to be approved on our blog.  When I read the comment I was thrilled and then, I have to admit, just a tiny bit suspicious (sorry, Linda!).  The writer said she had come across a copy of a deed showing William Denman buying land in upstate New York in 1795.  She wanted to know if this was my family by any chance.  You can see the comment and my response on the Contact Us page.  I was actually still on vacation and in Canada when I first read this and responded.
As soon as I got back home, I emailed my genealogical genie and we had several emails back and forth about what it was and how she came to have it.  She told me that she volunteers in a non-profit animal shelter that accepts donations which it then sells to help support the work at the shelter.  She had noticed the names on the document and thought she'd try to see if she could find out anything about them.  Her hope was that someone in the family would be interested in it.  She didn't spell it out, but obviously found the blog and the Denman names I have written about before, so she left a note.
I was very eager to know more about what she had, and she offered to get a picture to email to me.  Her husband took several shots and they showed me that it was indeed a copy of the original William Denman deed.  It shows William and Ann Denman acquiring the 200 acres in New York where they built the homestead that was the place my Denman family first settled in this country.  I have written about this place before, here.
What I haven't told about is the existence of this original deed.  My sister and I were lucky enough to see it in person when we visited the Denman family in Grahamsville New York two summers ago.  It belongs to our Denman cousins, and has hung on their office wall for a number of years.  The story we were told was that someone had discovered it in an envelope in a safe deposit box in California when its owner had died.  Apparently the executor thought it belonged back in New York and it was sent to the Denmans who still live in the Neversink area where the family first settled.  They framed it and hung it in their office.  I got one picture of our older cousin holding it, but we couldn't get a copy of it made while we were there.  (I admit to being somewhat concerned that it needed to be re-framed with archival matting and protective glass, and hope that this has been done since then.)  Anyway, I didn't get a real chance to read the document but I could see the signatures of William Denman and of Ann Denman who signed as a witness.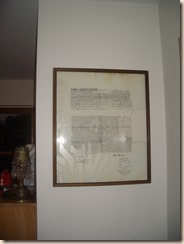 The good news is that Linda found me and offered me the copy, if I was willing to pay the postage and make a donation to her shelter.  I was glad to say yes.  She got it to a shipper and I found it waiting for me two days later when I returned home from a day out.  It is now hanging in my home office. The good news is also that this piece of family history survived the impact of hurricane Sandy in New Jersey.  The bad news is that it is stuck to the glass and has a lot of water damage.  However, it is still completely readable.  And the stamp on the back of the frame shows it was framed in Pasadena California.  I am hoping to hear from the company, which is still in business.
There is still the genealogical mystery of who made this copy, and when.  Also how did the person who donated it to the shelter come by it and where?  My genealogical genie is going to ask her a few specific questions which may help me figure out if her family is related to the Denmans and if she got the document in California or someplace else.