Since I last wrote about Lucy O'ShaughnessyI have received a couple of full obituaries. The best is actually a tribute to her, that includes so much information I didn't have, I am going to share some of it. The writer of the memorial is not named, but I am guessing it to have been her son Louis O'Shaughnessy who was City Editor of the Cincinnati Enquirer at the time, where it was published on 7 Jan 18751
The tribute begins: "While few women in private walks ever had a more eventful life than that of her who is the sainted subject of our sketch, all of [her] story that may serve any good purpose may be briefly told." It then proceeds to give her date and place of birth and discusses her marriage to Josiah Dalton. Lucy Barry was said to have been born in Dublin Ireland on 5 Feb 1809 to Church of England parents. Louis Coffin later wrote that her father was a British Civil Servant in Dublin. These details provide several important pieces of information that I can now try to document.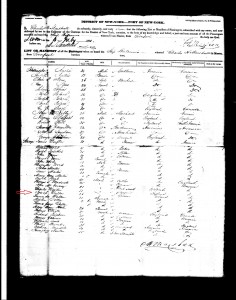 Lucy married Josiah Dalton, "a Quaker gentleman" and they were reported to have come to "this city" (Cincinnati) in 1830. Lucy "adopted the dress of her husband's sect". I don't have any knowledge about whether or not she adopted the dress of the Quakers, but we do know that Josiah did not formally join the Cincinnati Meeting (see the post I wrote about Quaker records here). We also know that they did not come to Cincinnati until after the beginning of July 1831. Here is the passenger list showing the family arriving on the ship Britannia. So the writer was off just a little on their arrival date. He also did not provide any information about why the young Dalton family came to Cincinnati.
Lucy was "left a widow in 1834, with two children—T.G. And R.J. Dalton—who survive her." This seems to support my suspicion that her first son, Stephen Dalton, had died sometime between the Daltons' landing in New York and Josiah's death in 1834, since he isn't mentioned. Lucy went on to marry "rising young merchant" Thomas O'Shaughnessy, although no date of their marriage is given. They were "married by Dr. Ayedelotte, the first pastor of Christ Church" (which presumably was not a Catholic church).
"[H]is bride, with a beauty which is described as regal, and a mind and culture unequaled, became one of the society queens here and elsewhere. At Newport, R.I., then in its prime, she was known as the most fearless swimmer, and it was there, too, that such women as the present Mrs. Samuel Colt were proud to make their debut under the chaperonage of 'the beautiful Mrs. O.' Here and in Europe she met most of the fine minds of the day, and retained to the last a vivid impression of them." Doesn't this paint a vivid picture of Lucy? I can imagine her in an 1840s swim dress braving the ocean off Newport R.I. I wonder if they used bathing machines?
Unfortunately, the good times didn't last. "Mr. O'Shaughnessy became embarrassed in the dry goods business—in which some of the richest wholesale firms of to-day were his customers—and closed out, sacrificing a fortune in settling in full. His means became further reduced by the purchase and subsequent burning of the famous Eagle Cotton Mills in Newport, Ky; and in 1862 Mrs. O'Shaughnessy became a widow of limited means, with five children by her second marriage—Lucy, John, Louis, Mary and Frank—all of whom likewise survive her.
About her joining the Catholic Church, it was said: "She followed closely the memorable debate between Archbishop Purcell and Alexander Campbell, andsubsequently sought instruction of the noted Father Elet, of the Society of Jesus, and became a devout Catholic." "There was no morning too cold or stormy for her to attend early mass and to return via the market. She became such a mother to her children as the Church was to her. Men who grasped her hand but once, and looked into her face, blessed her because she recalled to each his ideal of his own mother."
Lucy Barry Dalton O'Shaughnessy died 5 Jan 1875, of congestion of the lungs according to an index of deaths2. She was reported there as being 66 years old, born in Ireland, and buried in St. Joseph's cemetery. The tribute to her concluded: "There to-day—the claims of the living, long since overpaid ten thousand-fold—will the last duty be done, the last journey ended, and she will be laid by her sons, beside the remains of him who, perhaps, owes it to her example that he awaits her in heaven."
**********
In Memoriam: Mrs. Lucy O'Shaughnessy. Requiescat in Pace. Cincinnati Enquirer (1872-1922): Jan 7, 1875; ProQuest Historical Newspapers: The Cincinnati Enquirer (1841-1922) pg.8 ↩
http://drc.libraries.uc.edu/handle/2374.UC/2032 This is a digitized collection of records from the Cincinnati Department of Health ↩