Ann Justice Salt is my second great grandmother.  She was born in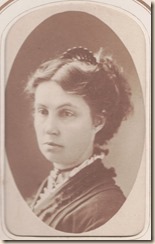 Clermont county, Ohio in 1830 – presumably on the family farm – the third child of Ruhama Blackman and Savil Justice.  The two older siblings died before she was 20 years old, as did the youngest child born to Ruhama and Savil.
The family story is that it was her older sister, Amanda Justice, who was engaged to marry Edward Wilshire Salt in about 1850.  Amanda had been out nursing a young neighbor couple with cholera, and came home infected with it herself.  She died quickly after her first symptoms, in August 1850, and was laid out and buried in the dress she was to have been married in.   I have never seen a date that Amanda's wedding was to have been, but Wilshire married Ann in February 1851.  Given that Amanda had a dress for her wedding already in August, I suspect that the wedding was supposed to be close to then.
Wilshire was 27 and Ann was 20 when they married.  He had been farming, on land next to his father's, and he and Ann presumably lived where he had been living.  They mostly lived in the Salt house built by Wilshire's father John, but the timing of their moving in isn't clear (and happened between federal census years).  They might have moved in with the older couple immediately after their marriage, but I suspect that it was some years later.  John Salt's third wife died in 1857 and it would make sense that it have been around that time that Wilshire and Ann moved in.
By the end of 1857, Ann had borne 4 children. one of whom had died as an infant.  The last child, a son, born to Ann and Wilshire was born in 1860 and named for his father.  Then, her young husband, who seemed in the best of health, complained of feeling bad and died within the hour (as I was told by a cousin).  Edward Wilshire Salt died in 1864 at age 40.  I have not yet found any record of his death (except on his gravestone) so don't know if this is an accurate report of what happened.
After her husband's death Ann moved with her children to New Richmond Ohio for a short while, and her daughter Jessie Belle attended the Parker's Academy.  While there Jessie Belle contracted Typhoid and only lived a week, dying at age 14 in 1866.  At the time of the 1870 census, Ann and her sons were still in New Richmond and all three were in school – perhaps the Academy.  It is said by my cousin that the remaining next child (son Savil, named after Ann's father) had tuberculosis (not uncommon in this time period) and although they tried sending him south for his health, it did not help and he died at age 23 in 1879.  By the 1880 census Ann and her remaining two sons were back at the farm in Saltair and her sons were working as farm laborers.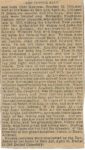 Her older remaining son, Clifford, married in 1883 (see post about Katie Coffin Salt) and the young couple lived on the farm with Ann.  Katie and her two young children remained there after Clifford's accident and subsequent institutionalization and Ann lived with them.  Ann continued to live on the farm even after Katie and her children moved out, dying there in 1905.  She had never remarried and had managed to raise her children without much financial help.  As her obituary said she was uncomplaining about this and worked earnestly to do her best.