I recently connected with a possible relative through DNA testing.  Our mitochondrial DNA looks vaguely like there is a connection, so we have been emailing about possible shared ancestors.  While exchanging surnames, the Coffin line looked promising (although not my maternal line, so not the mitochondrial connection) and we went on to exchange spreadsheets of our Coffin lineages.  I have to admit here that I copied her spreadsheet as a template (thank you, cousin Diana!).
I have always known (well, for a long time) that I had ancestors who had married, each of whom came from a line of Coffins.  I also have ancestors who came from the same line in the Justice family, and they married into the Coffin family, just to make it more complicated.  I had never taken the time or effort to try to chart these complex relationships in any way.  When I thought about writing a post about this, I thought I could just show the spreadsheet I filled in and that would be it.  However, since I can't include/insert the whole spreadsheet which is more than one page wide, I was stuck trying to think of another way to illustrate the relationships succinctly.  Then it occurred to me (this is a "Duh!" moment) that I can capture a screenshot of each set and include them sequentially.  So here they are.
Note: there are dates here that I haven't fully verified myself.  Most of them come from a compiled genealogy on the Coffin family by Louis Coffin1 Some individuals don't have dates or full ones, anyway, although I have guessed broadly (e.g., 17xx or 18xx) in some cases.  On the first set I have noted relationships between spouses, and then on the second any additional ones.  I tend to think of my Coffin line as running back to James, since that is the line that carried the Coffin surname the closest to me, however these are presented by age of the child of Tristram and Dionis, oldest to youngest.  Also: the relationship between my great-grandmother Katie Coffin and her husband John Clifford Salt is the result of their sharing a Justice great grandfather, Jesse Justice Sr., not a Coffin ancestor.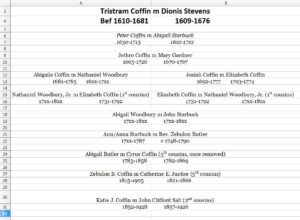 Coffin, Louis (Ed.).  The Coffin Family.  Nantucket, MA: Nantucket Historical Association, 1962. ↩