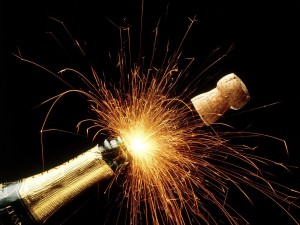 This week's post is another joint effort by Pat and me.  We both wanted to have an opportunity to congratulate Jasia on the 100th edition of the COG.  My efforts are in standard type; Pat's additions are in italics.
This month's theme for the COG is There's One in Every Family.  Great theme, how hard could it be?  Rip off a few lines about crazy Uncle Gordon or silly Aunt Emma and be a contributor.   The thing is, most of my relatives, living and dead, are kind of ordinary. (I know I've been looking and hoping, for a real Black Sheep.  If I can ever document it, I have a 2-woman scandal in the very early 1800s.) Of course, everyone has a story, just not one that wants to be told for this sort of thing. (Oh, maybe mine is one of those.)
And then it came to me, every family has a genealogist or, as we say now, a family historian.  Yes, it is you I am writing about or for whom I am writing.
When I started climbing the family tree there was no family history, there was only genealogy.  Who cares?  Well, me, and if you remember The Look you will too. The Look, is what you got when you told people you were a genealogist.  Genealogy has grown to be wildly popular with TV shows and podcasts and, you know, blogs, but this was not always the case. Years ago the declaration that you were a genealogist, the one that generated The Look, meant one of two things.  Either:
1.  You lived alone in an attic with no fewer than 5 cats, or
2.  You were an unbearable snob who was about to reveal that she was heir to the throne of Godknowswhereistan.
For the record, I have never had more than 3 cats at once and, although hope never dies, I don't appear to be the heir to anything. (And I keep hoping that I will turn out to be the heir to all of Nantucket, but alas, that also doesn't seem to be the case.)
It is so much more pleasant to be a family historian.  Many people just hear the historian part and assume that you actually know something.  Having spent years suffering The Look, I see no reason to disabuse them of this notion.
The other thing I vastly prefer about family historian is that most people with a fourth grade education can spell both family and historian, not so with genealogy.  What is it with that "a" in the middle.  OK, I grew up in Philadelphia and some people, most of whom are related to me, have made note of the fact that I don't always pronounce words in precisely the same way as people in New England.  Still, I think that "a" needs to be an "o".  After all, it's anthropologist, biologist, criminologist, musicologist, otologist (look it up, new words are good for you), phraseologist (yup, the study of phrases), and, my personal favorite, storiologist. Not an  " a"  in the bunch.
So, if you're younger than I am, and who isn't, count yourself lucky to be a family historian, and count yourself lucky for the work Jasia does to bring us the COG. Congratulations on the 100th edition (from both of us).  Pop the champagne and let the celebration begin.