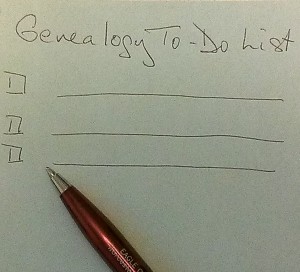 Research
* Earhart project:   I received the Civil War pension file for Margaret Earhart applying based on her son Tilford's death.  This record was pulled and scanned for me by Pamela Loos-Noji at Kinwork Connections.  I found her by using the Association of Professional Genealogists website's Find a Professional section.  Easy peasy.  Pam was very responsive and I had the file of 81 scanned pages in less than a month.  I'm still reading through this 81-page gem and getting ready to transcribe at least some of the affidavits, which look like they contain much useful information.  Unfortunately, so far I don't see any reference to my Mary Elizabeth Hockman.  But hope springs eternal.  Realistically, reading through this file and transcribing is likely to be my major project for this short month.
Organization
I see that once again I have a set of goals that mostly aren't getting accomplished.  I will try to do better this month.  Honest I will.
* Pick a family group in Evernote that is tagged To-Analyze and enter into my database.  The information isn't going to jump in all by itself (drat!). I actually did get started on this one in January. I got some of the Boothby information transferred and organized but then, as usual, got distracted by searching online for the details to fill out the picture. So now I have images of Boothby certificates or registers sitting on my desktop along with a couple of Earharts and a couple of Justices. So back I go to try again.
* Pick a group of census records and really learn how to enter them in Clooz – a program which I really like my early experience with but which I need to learn to be more proficient using.
* Type notes from Maine trip and file information.  Figure out next steps.  Since this is my Boothby family line, I will make the family group from my Evernote files to start on the Boothbys. Also since I can travel pretty easily to Maine, even doing a day trip for some places, I need to keep myself focused on this goal.
Education
* I am registered to watch a webinar titled "Find Your 17th-c. New England Ancestors with NEHGS" which I am looking forward to.  I recently seem to be reading and listening to books set in the colonial period of the U.S.  Nathaniel Philbrick's Mayflower was a good listen as an audiobook and I'm still listening to Woody Holton's Abigail Adams.  I am addicted to podcasts and audiobooks to make my hour-plus each way commute pleasant.  It makes a huge difference.