I wrote recently about my grandfather's brother, Sam Silver.  Sam was a handsome man who served in the Spanish-American War and disappeared, both from our family history and from the census and other written documents until reappearing in the 1920 census in Colorado.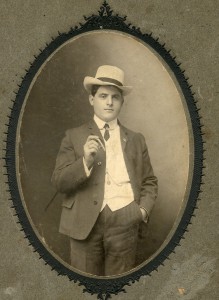 During my recent trip to Washington, D.C. I was able to visit the National Archives and have a look at Sam's pension file.
Sam moved to Los Angeles in early 1925 and died there on December 12, 1925. Shortly before his death he applied for a pension based on his military service.  His wife, Gertrude continued the application after Sam's death.  There were bureaucratic problems as Sam was enlisted under the name of Silverin and applied for a pension as Silverin, but all of the other documents in his life correctly list him as Sam Silver.
I have many more bits and pieces of Sam and Gertrude's story, but for now I think it is best to let Gertrude speak for herself.  Here is Gertrude's affidavit written for the Pension Office of the Veteran's Administration and received by them on October 25, 1930. I have corrected grammar and sentence structure for ease of reading.  A scan of the original document is on the right..  A fold in the paper obscures one line and I have filled it in as I remember it.
" I Gertrude Silverin, age 41 years old.  I am the wife of the late Samuel Silverin or as everybody called us, Mr. and Mrs. Sam L Silver for short. [Sam] passed away Dec. 12, 1925 at the Kasper Kohn Hospital.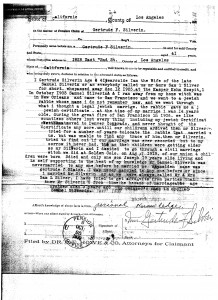 In October 1903 Samuel Silverin and I ran away from my home which was in New Orleans and came to San Francisco .  We went to a Jewish rabbi whose name I do not remember now and we went through what I though was a legal Jewish marriage.  The rabbi gave me a Jewish certificate.  At the time of my marriage I was 14 years old.  During the great fire of San Francisco in 1906 we, like countless others, lost everything including my Jewish certificate.  We the moved to Denver Colorado and never thought of the certificate anymore until our children arrived.  Then Mr. Silverin tried for a number of years to locate the rabbi that married us but was unable to find any trace of him.  Then Mr. Silverin tried to find out if our marriage was ever recorded, but to my sorrow it never had.  But as the children were getting older Mr. Silverin and I decided to go through a civil marriage which we did at Golden, Colo on Aug. 27, 1919.  Of our union 4 children were born, 3 died and only one son, Joseph, 19 years old living and is self-supporting to the best of my knowledge.  My Samuel Silverin was never married to anyone before he married me.  My maiden name was Gertrude F Eliach.  I was never married to anyone before or since I married Mr. Silverin or as we were always called Mr. and Mrs. Sam L Silver.  I have tried to get affidavits from  parties that knew Mr. Silverin from the time he became of marriageable age [but both his parents are dead and Alex Silver his] brother died 3 years ago.  The soldiers name is Samuel Silverin."
A few things stand out for me.  Both Sam's mother and his brother were very much alive in 1925.  Was there a family rift or was it simpler to say that everyone who knew Sam was dead?  Sam's brother, Alex, and his family were living in New Orleans at the time that Sam and Gertrude eloped.  There must be a connection that brought both the brothers to New Orleans, but I don't know who got there first or why.
Whatever the complete story is, and I am certainly still trying to track it down, this much appears to be true.  Gertrude Eliach ran away with Sam Silver to a place over 2000 miles away.  They remained together for 22 years until Sam died and left her a widow at the age of 36.