After Pat and I attended the Genealogical Research Institute of Pittsburgh I promised to write a blog post about our experience and here, a mere three weeks later, you have it.
WHERE WE WENT
           Pittsburgh, LaRoche College.  No disrespect to LaRoche, a place full of very pleasant and helpful people, but who knew it was there.  Well, not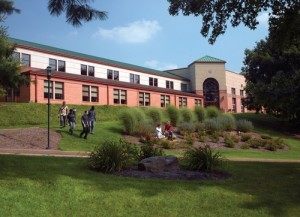 only is LaRoche sitting there on the northern border of Pittsburgh, but once a year after massive amounts of hard work by many people, most notably Elissa Scalise Powell and Deborah Lichtner Deal, it draws some of the top talent from the genealogical world to the faculty, gifted professionals and amateurs to learn from them and each other, and people like us. I guess it's hard to keep the riff-raff out.
WHAT WE LEARNED
          We both took Paula Stuart-Warren's Intermediate Genealogy course. Paula did a wonderful job shepherding a very diverse group of learners through topics including vital records and substitutes, probate records, WPA records, and much, much more. There were also guest lectures from Josh Taylor and Debbie Mieszala.
     It is hard to know where to start, so I'll just hit a few of my personal favorites.
     In addition to everything that happened in class and out I got to take home a course syllabus that is chock full of wonderful references.  I know I will use it for years to come.
     Paula added an optional half hour to the afternoon session where problems presented by the students in the class were discussed. This was enormous fun.  Everyone was full of suggestions.  I was lucky enough to have my problem with Sam and Gertrude Silver discussed and I could hardly manage to write down one good idea before being hit with another.
      I particularly enjoyed Josh Taylor's lecture Going Digital.  Sometime someone must explain to me why I had to go to Pittsburgh to learn the value of digital organization. It's not that I don't have digital files or that I can't use a spreadsheet, it's just…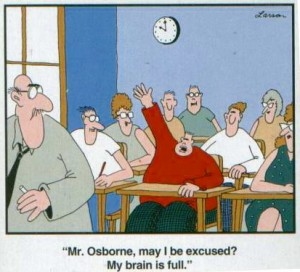 Josh showed us his organizing system and I am excited to begin implementing  something similar.  What I love about it is that I can use the search capabilities of a digital format to file everything within my four basic families.  No more looking in the file cabinet and wondering why there is a Woodward file, the spreadsheet will link it to the Coles and my family tree software will show me the connection.
      Josh took a year off from research to implement his digital system.  Josh is a lot younger than I am, so I'm not planning on a year off, but I do hope to put in a few hours each week and see how it goes.
      If our brains weren't already full there were evening sessions as well.  I particularly enjoyed Michael Hait's lecture in which he stressed the basic idea of figuring out what you need to know and then finding out how to get that information.  Again, it sounds simple, but it isn't.  I've wasted lots of time looking at what's available rather than zeroing in on what I need.
 WHAT WE REALLY DID
      We spent hours in class and listening to lectures, but we also spent a lot of time talking to other people, people who don't run from the room when you begin a sentence with, "My third great-grandfather…"
     When we tired of cafeteria food we found others who enjoy food and drink and a night off from genealogy.  I recommend both Blue and Willow for good meals on the northern side of Pittsburgh.  We tried to make it to the Carnegie museum one night, really, we tried, but the lure of cocktails was too great. So much for culture, maybe next time.
 THE WONDERFUL THING THAT HAPPENED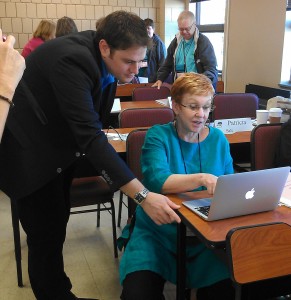 As I have already said, Josh Taylor gave a few guest lectures in our class.  He put up a slide of information about his own family as an illustration of something or other.  Suddenly my surprised tablemate said, "That's my family." And it was.  Nan and Josh shared a fairly close connection.  Josh, of course, has lots of information on this family, but not so much on this branch.  Nan had a photo of her branch with parents and their twelve children.  She found the photo on DeadFred.  How much freaking genealogical ridiculousness is that?  Seriously, many of us, including Josh and Nan had tears in our eyes. 
THE FINAL ANALYSIS
      Would I go back?                                          Yes
      Would I stay in the dorms again?            Probably. 
      The air conditioning that couldn't be turned off, the paper thin mattress, and the Astroturf carpeting that appeared not to have been vacuumed in this decade were offset by being able to fall out of bed and into a cup of coffee in the morning, the fun of meals and talk with lots of great people, and the low cost. Money does matter.
      My thanks to everyone who made it such a great week. I hope to see some old friends next year and make some new ones.