Yesterday's mail was way better than the usual junk.  I received a certificate for taking second place in the under 1000 words section of the Southern California Genealogical Society's Family History Writing Contest.  You can read that piece, Jersey Shore, by clicking on the link.  I am honored and delighted.  This is the second year I have entered the contest.  Last year I was a finalist with, A Genealogist and Her Daughter Walk into a Nursing Home.  You can read the stories of the actual winners here.  I'm delighted to be in the company of such good storytellers.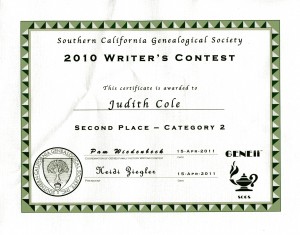 Along with a nice looking certificate and some much appreciated and helpful comments about my writing came a $50 check and an offer of a free lunch.  So, I am now a professional.  I don't know what's next.  I'm considering a hostile takeover of the Worldwide Genealogical Empire, but I'm just not feeling that hostile at the moment and I'm having trouble locating the headquarters of the Empire. I don't think I'll quit my day job just yet.
Seriously, thank you to all the people at SoCal, organizers and readers who work so hard on the Jamboree.  I wish I could be there, but the expense of the trip from Connecticut is prohibitive right now.  Maybe I'll make it next year.  Will the offer of free lunch still stand?