[This post is preempting my usual beginning of the month to-do list. The one for December is likely to be pretty sparse since with the short amount of time between Thanksgiving and Christmas I don't expect to accomplish much this month. I will have a short list probably by next week.]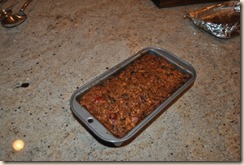 Ok, I admit it.  I am one of the few people in the world who likes fruitcake. There must be others of us but I'm hard pressed to name any of my current family or friends who will admit it, except for one.  I like pretty much any fruitcake – I'm not very particular although it does need to be moist.  I don't know where I got this apparently rare taste, although I remember my mother eating fruitcake.  She would get a round one in a tin box around Thanksgiving and parcel it out in December.  Maybe my grandparents sent it to her from Texas.  Some years there was fruitcake left to be eaten on New Year's Eve.  One of my favorites.
Anyway, I do like it.  Years ago a friend discovered this and suggested we make our own.  I was in, although I'd never thought about making it myself until she suggested it.  She comes from a Southern family on her mother's side, and has great recipes from the Southern ladies who had to learn to cook/bake certain things as part of their upbringing.  There are great cheese straws, for example.  And in her family fruitcake was another required specialty.  So we started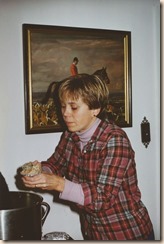 our own tradition of making fruitcake the weekend after Thanksgiving.  You have to make them far enough in advance to let them age, and add the cider (or rum or bourbon or whatever) to keep them moist.  We learned through doing that we could make little muffin-fruitcakes and small loaf fruitcakes and bigger loaf fruitcakes.  They were all good.  We also had both a dark fruitcake recipe and a white fruitcake recipe (I think the white one was the more traditional Southern one but I may be wrong).  The dark is my favorite; it's the one I grew up with.
Louise's notes say that the recipe we used was developed by her grandmother in the 1930s and is unusual in two ways.  First it doesn't include any fruit rinds, only candied fruits.  And second, while it does include a small amount of rum for flavor, you age it by seasoning it in apple cider.  It comes out nice and moist but not overly "spirited". We'd get together on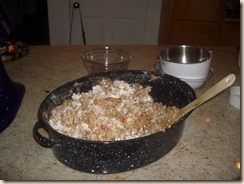 the Saturday after Thanksgiving and with a very large roasting pan or soup pot start the process of mixing up the batter.  The goal was to make enough for each of us to have some for ourselves and some for gifts.  The batter is a very stiff, heavy one and you can't use an electric mixer to stir it – unless maybe you have an industrial size mixer but neither of us did or does.  So we would take turns putting our muscle into it, until the batter was fully mixed and ready to put into the baking pans.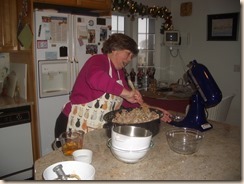 Then while the cakes were baking, and they take a long time in a slow oven, we'd do something fun.  This usually involved a trip out for lunch and to look at stores someplace like Rockport or Marblehead, MA (wonderful little towns on the ocean) since we had the time.  Now I'm talking about 30 years ago, before shopping Thanksgiving weekend became a competitive sport.
Then somehow we lost touch with each other for a number of years and the fruitcake tradition was lost.  Jobs and where we were living changed.  Happily, a few years ago we reconnected and last year the fruitcake tradition was re-instated.  Or at least she let me come help her.  We made enough to fill 4 loaf pans and the resulting cakes were beautiful.  Unfortunately our timing was bad, and I had to leave before they were finished baking, so she sent me a picture of one later so I'd know they came out as good as ever.  (And she was the one who had to keep basting them with cider until Christmas!)