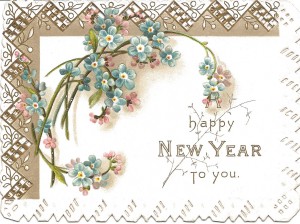 Research
* Go through and enter every piece of information stored over the year in Research2011 folder for husband's side. Source in RootsMagic database.
* Order more original records from LDS for direct lines.
Organization
* Back up the blog. I always put this on my calendar, and try very hard to remember to back up on the first of the month. While I have most of my computer files backing up to an online server, the blog isn't part of that automatic system. I wonder if there is a way to automate backing it up?
* Go through the three inboxes on my desk and see what is lurking there to be put away, entered into the database, etc. [Last try: November and December were not good genealogy months for me. I need to start 2012 with a clear desk!]
Education
* Watch one online video or webinar about genealogy. [This has been a very useful goal for me in the past year. With this reminder, and the motivation to learn about the various sites that offer free webinars, I have successfully met this goal every time! In December, I watched the webinar offered by Relative Roots Introduction to Genetic Genealogy at Family Tree DNA. I was particularly interested because there is a project at Family Tree DNA for the small town some of my husband's relatives came from (Jalowka). I also caught Lisa Alzo's webinar over at Legacy Family Tree on tracing immigrant ancestors, and picked up some good tips. I have more difficulty finding my own immigrant ancestors, who all arrived by 1795, than finding my husband's. Ironic.]
It seems clear that January 2012 needs to be a clean-up month. I hope by the end of the month to be able to report I have a clean desk and am able to see what my goals need to be for my husband's family history. We'll see!