It's New Year's Eve, and I am getting ready to turn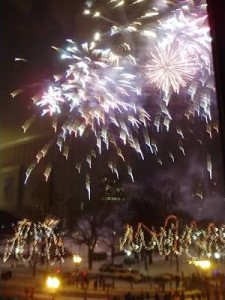 the computer off and celebrate. Before I do, let us wish a happy and healthy (and genealogically-rich) new year to all from the Genealogy Gals.
What with the short time – it gets shorter and shorter every year – between Thanksgiving and Christmas, I haven't accomplished many of my stated items in December. Instead I went off on two tangents, both involving the same weekend. Don't they call that time management?
Judy and I met again in Hartford and spent a lovely Friday afternoon in the Connecticut State Library. Then on Saturday, I went on toward New York to visit with cousin Marion and cousin Jean. I took the opportunity to do a little recording of family stories and to try out my new Flip-Pal on some pictures. So that is my excuse explanation for not making progress this month.
Research
* Write to Christ Church in Cincinnati to see if there are records there of Lucy and Thomas O'Shaughnessy's marriage.
* Write to Ditchling church about possible archives and records for Denman family.
* Set up Salts database and add what I'm learning about the Tennessee Salts.
Organization
* Still trying to get that last inbox cleared – somehow there is always something more urgent (read: interesting) to do. Determined to do this over the holiday season. [I actually made a start the end of November and may have a brief post about this process at some point. I learned (finally got it through my head!) some things about how to do this process.]
* Back up the blog! Plug-ins found to automate this task don't meet my needs.
Education
* Watch one online video or webinar about genealogy. [I watched Judith Eccles Wight's webinar on researching your Irish ancestors which both interesting and useful.]
* Still looking for more sources of webinars – preferably free.