Happy New Year!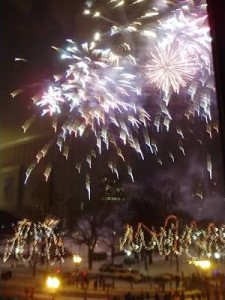 Research
* Earhart project: I received the death certificate and an obituary for William Samuel Earhart from the Wyoming State Archives. The death certificate lists John Earhart as his father, mother unknown, and birthplace as Bethel, Ohio. These pieces of information raise further questions about the Earhart family I'm searching. I need to continue to look for vital records for Margaret (Shotwell), John, Tilford, William S., and John Charles Earhart. I have marriage and death records for Mary E. (Hockman), but no birth found yet under either name. I do not have birth records for any of the other children either. The records I do have for John and Margaret show them recording their marriage in Clermont County, Ohio in 1840 but by the 1850 census they were in Clark Township, Brown County, Ohio and stayed there through the rest of the censuses they were alive for.
* I'm still procrastinating on getting the pension file for Tilford Earhart that was filed by his mother Margaret. Unfortunately this file is not yet available on Fold3.com, except for the index card, so I am going to have to send to NARA for it.
* Go back to Evernote To_Analyze tagged items for one family and transfer the information to RootsMagic and add the source or note.
* Having trouble with my use of the photoduplication service at FamilySearch. I think it is my email address or how it handles certain kinds of emails coming in. Frustrating.
Organization
* Pick a family group in Evernote that is tagged To-Analyze and enter into my database. The information isn't going to jump in all by itself (drat!).
* Pick a group of census records and really learn how to enter them in Clooz – a program which I really like my early experience with but which I need to learn to be more proficient using.
* Type notes from Maine trip and file information. Figure out next steps. Since this is my Boothby family line, I will make the family group from Evernote to start on the Boothbys.
Education
* Watched the webinar about how to get around lost records by Karen Clifford, which was helpful. For January I need to go back to the webinars for my two pieces of software, RootsMagic and Clooz and work on learning to use them better. I know I'm missing things in each program that would be helpful.