I wrote years ago about the Yellin children and a brief summary of their arrivals in the U.S. (here), but am prompted to write more about Jeanette (Scheine Toby) today. Recently Cousin Ron (another family researcher) has sent around an audio file of an interview done with Sheine by another cousin and a transcript of an interview he did with her a year or two following the first. He also summarized his interview and research on her migrations. So this is intended to be sort of a public service announcement for any family members who are interested. The Yellin sisters married men named Killian, Rosovsky (or Rose), Golub, Braude, Levin, and Serling. The sole Yellin brother, Samuel, married a woman named Gold.
Jeanette, or Scheine Toby,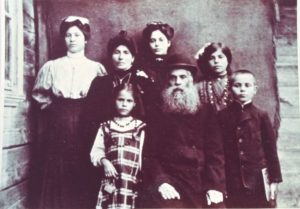 and known to some of the next generation as Tante Scheine, was the youngest of the Yellin children. By the time she was born, two of her older sisters had already migrated to the U.S. A third left when she was about seven years old. Of the seven living children, only one married and stayed in the Jalowka area (Friedel who married Herschel Levin). Friedel's story deserves a post of its own.  This picture shows the family of Abraham David Yellin circa 1910, with Jeanette to the right of her father and in front of her mother Chaia.
Scheine was the only child left at home by the time her father, Abraham, died in 1922. The family in the U.S. started working to have Jeanette and their mother migrate to the U.S. but ran into immigration roadblocks. The result was that mother Chaia could come into the U.S. because she had children here, but Jeanette could not. This led to a lengthy and complicated set of arrangements. Jeanette ended up being able to migrate to Canada. Her sister Esther and brother-in-law Morris Killian worked to find a way she could also come to the U.S. and managed to get her a one-year visa. So Jeanette was able to spend one year in Syracuse with the family and then returned to Montreal. An arranged marriage to an American cousin a couple of years later allowed her to return to the U.S.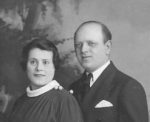 There are many twists and turns to this story, some of which are known and even documented, but make for a complicated and long tale. The end of the story is that Jeanette and her arranged-husband divorced, Jeanette married Israel Serling and they lived in first Syracuse and then the Detroit area for the rest of their lives.  As far as I know they did not have any children but Jeanette was known by many of the children and grandchildren of her sisters and brother.