Research
* Figure out how to request information about possible records from St. Xavier in Cincinnati.
* Continue to work on updating the Denman database with information already collected and/or noted by cousin Claudia in her review. I already discovered a connection I hadn't been aware of! A good example of fresh eyes being helpful. [I made some progress on this in May, but I had collected a lot of information that never got put into the database, so it is a bigger job than I first thought. Worth doing, but a bigger job.]
* Start work on Boorman database I just started. I have information from three current researchers now, so should be able to make some progress.
Organization
* Continuing the work listed above on the Denmans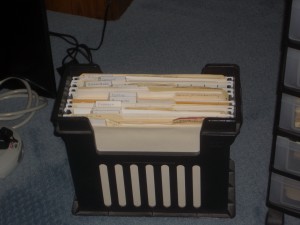 is also organizing files on my hard drive (and helping me establish a standard file naming process).
* Start clearing out the files in the small open box on the floor.
* Back up the blog! Plug-ins found so far to automate this task don't meet my needs However I just saw a review of another one, that looked worth investigating. There is always hope – in the meantime I must remember to do it by hand.
Education
* Watch one online video or webinar about genealogy. [In May I attended a live presentation by Marion Pierre Louis on house history which was fun and, I hope, will inspire me to get to work on that project for my original Salt house. I also managed to catch the Lisa Alzo Legacy Family Tree webinar on Ten Hidden Resources Every Genealogist Should Know over the long holiday weekend while it was still free. I was pleased to see that I was already aware of most of these, but she did remind me that some of them I need to re-visit.]