This is the second in a series of posts about the Davies family.  In my first post I talked about the Davies Mansion here in New Haven and my curiosity about the house and the people who lived there.
The original owner of the house was John Davies, but his story really begins with his grandfather, Luke Davies, the first member of the family to come to America.
Luke Davies has been a challenge for me to understand.   Some of the simple facts are: born in 1763, married Ann Peerless in 1780.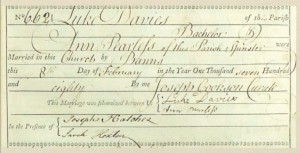 They had at least 8 children, maybe more.  He was trained as a physician in London, but was also a Baptist minister.  Ann died in 1830 and Luke married Margaret Murray. All of these things are important in understanding the man, but I believe that the true center of Luke Davies' life was his Baptist faith.
Sometime around 1790 Luke Davies heard the preaching of Rowland Hill and was converted to the Baptist faith.  By 1793 he was preaching in Burnham on Crouch in Essex County.  He is described in The Baptist Reporter and Missionary Intelligencer, Vol. 21 as "an energetic godly Baptist minister from London." Rev. Davies baptized seven people and a new church was formed in Feb. 1794.  But, in what would become a recurring theme, Davies was removed from his ministry.  The Baptist Report says, "some circumstances that were unpleasant appear to have arisen among the people."
In 1796 the Davies immigrated to New York City.   I don't know why he came to the U.S.; British immigration to this country was rather small at this time, but whatever the reason Luke and Ann Davies arrived in New York in 1796. Luke preached for a while at the Mulberry Street Church and worked as a physician.  The family moved to Newburgh in Sullivan County, New York by 1800 and Luke was the pastor of the First Baptist Church in Newburgh until 1811.  In 1809 he visited Thompson, New York where he preached for his brothers and their families.  He continued to visit and to preach in Thompson every three weeks until 1811 and helped to found the Baptist Church there, moving to Thompson in 1817.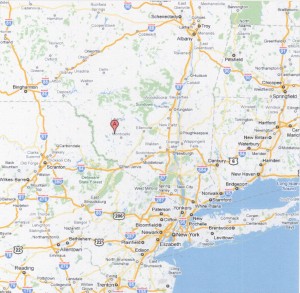 The Baptist Missionary Magazine speaks of Luke Davies in1819:
"When your Missionary commenced his labors in this wilderness there was no place to worship belonging to any denomination and the profanation of the Sabbath was general, but he can now observe with pleasure more than thirty persons, by the blessing of God on his labors raised up to shine in the wilderness, holding forth the word of life.  The standards of morals is elevated within the sphere of their influence; and many who do not appear to be truly the subjects of divine grace, are now afraid or ashamed to pursue openly that course in which they once appeared to glory."
All appeared to be going well for the Davies.  I think Luke Davies cared deeply about his congregation and truly tried to save every soul, but he also appears not to have been loath to judge his congregants and to cull the congregation of those found wanting.
In the early years of the church half a dozen congregants were excommunicated. The History of Sullivan County states;
"Uzziel Royce was excommunicated because he believed in open communion; Jonathan Reynolds because he wronged a brother; Jesse Bradley, for intemperance; Annais Waring walked with the brotherhood until he was an old man, when he came to the conclusion that the Baptists of Thompson were a bad set and he was cut off; Shadrach Schofield, during a controversy as to keeping the first or the last day of the week holy, concluded that all days were equally sacred, and worked on Sunday."
And so it went until his congregation ultimately turned on him in 1823.  The charges included allowing an Episcopalian priest to lead worship in the church, receiving a letter from the Baptist Board of Missions which he did not share with the church, consulting an "irreligious lawyer", claiming that members of the Church met with the intention of injuring him, and claiming that the Baptist Churches of America were too republican.
Ultimately an ugly meeting was held and with the minister in attendance it was decided that "Mr. Davies has from first to last of our difficulties shown a wicked, malicious disposition toward the church.  The church by a large majority agree to withdraw their fellowship from him."
It must have been quite a blow for him.  As the History of Sullivan County puts it, "He could not, unless restored to membership by the Church of Thompson, administer the ordinances or preach, and apparently an untamed wolf had a better prospect of being admitted to the sheep-fold than the expelled elder."
Seeing either the injustice being done to Rev. Davies or simply the damage to the church Deacon Thomas Stokes of was sent from New York City to ease the situation.  Luke Davies was reinstated and allowed to submit a letter of dismission, which was immediately accepted.
Shortly after his dismissal his wife Ann was expelled as well, the cause being her support of her husband.  She was widely known as a midwife who traveled through difficult terrain in all weather to deliver babies and to visit the sick as well.  Her loss to the community must have been as notable as her husband's.
The Davies returned to New York City where Luke worked as a physician, seeing patients and dispensing prescriptions that he compounded himself.  The family continued as active church members in New York.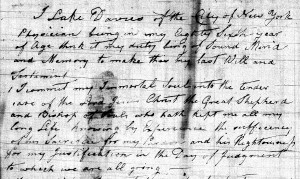 The first clause of Luke Davies' will read, "I commit my immortal soul to the tender care of the Lord Jesus Christ the great Shepard and bishop of Souls who hath kept me all my long life by Experience the sufficiency of his Sacrifice for my Pardon his Righteousness for my Justification to the day of Judgment to which we are all going."
Luke died in 1852, his second wife Margaret continued on until 1855.
He left behind his sons, Henry, a Baptist minister in the same town of Thompson that gave his father so much pain, Jonathan, Samuel, and Nathaniel, and Benjamin, and his daughter Patience.  He was predeceased by his sons George and Luke.
His son Luke died ten years before the elder Luke Davies.  The younger Luke Davies will contains no mention of his immortal soul.  It does contain an extensive inventory of goods belonging to the man who would establish the family's fortune and become know in the industry as, I do not make this up, the Godfather of the Mens' Furnishings.  That story and the story of his son John Davies will be my next postings in the Davies saga.