And thanks to TennLady over at Gene Notes.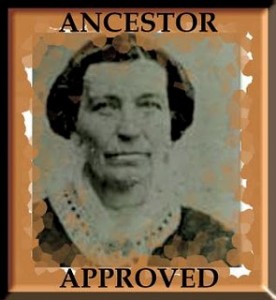 Since this blog is a joint effort, I am assuming that TennLady's award was to the site and therefore to both of us.  I found, on Family Curator's site,  the origins of this award and the responsibilities that go with it.  We will try to meet these responsibilities, although this type of thing is not my [Pat's] strong suit.  We're supposed to report on 10 things learned about our ancestors that have surprised, humbled, or enlightened us, and then pass along the award to ten more genealogy bloggers who are doing their ancestors proud.
Here goes (some by Pat and some by Judy and some we both share):
1.  Humbled by the migration of my Snow family from eastern Massachusetts to Connecticut, from there to western Massachusetts, and finally to northeastern Ohio, all before 18[00 check date]  Hard to imagine what it took to pick up and move yourself and family for those distances in that era.
2.  Humbled by the story of my Salt ancestor taking flatboats down the Ohio and Mississippi Rivers to New Orleans to sell animals etc., and then selling the wood from the boats and walking back home to southwestern Ohio.  And he did it more than once.  Something for me to remember when I'm thinking that what I have to do is too hard.
3. I am truly humbled and astonished by the hard work and deprivation our ancestors endured to enable us to live our comfortable lives.  Pat and I visited the Tenement Museum in New York together and saw the conditions that some of our ancestors endured. This was urban poverty at its worst, locked in tiny, dark, virtually airless rooms, lacking of any of the comforts so many of us take for granted now.  They did it, they survived and we thrived.  Thanks, to my great grandparents and my grandparents.
4. I was surprised to find that after the Presbyterian, Scots-Irish branch of the Cole family landed in Nebraska they all became Seventh Day Adventists.  Every single one of the children except for my husband's grandfather became a minister or a missionary or both.  Some of them traveled around the globe to Fiji, New Zealand, Australia and even Pitcairn to spread the word.  Their immigration to the U.S. clearly brought changes they never dreamed of before.
5.  I am eternally grateful to the record keepers in our families especially my mother and my mother-in-law.  All of the precious documents and photographs I possess were preserved by these women.  We lost them both this year; I know I will write about them in the future, but for now thank you, thank you, thank you.  I have to chime in here with vigorous headbobbing: yes.  My mother in particular was an inspiration in finding, finding out about, and then preserving family stories and things. (Pat)
6.  I am truly astonished that after 20 years of doing genealogy I have not discovered a single relative in any  branch of my family who is sufficiently grateful for my work that he or she is prepared to reveal a hidden source of wealth and provide me a with a generous endowment to allow me to continue to work on my family history in the style to which I would like to become accustomed.  That private jet would surely help me visit all those ancestral homelands.
7.  I was delighted to find that one of my ancestors, William Leaf, helped found one of the first Yiddish daily newspaers in America, the Forward.  Maybe, that's where the writing gene comes from.
8.  I was surprised that my husband's family supplemented their income from farming with stints working on the railroads.  I wondered why there were so many firemen listed in the census for his family until my mother-in-law explained it to me.  They shoveled coal to keep the engine going.  Now there's am occupation that won't appear in this year's census.  Of course, no occupations will appear in this year's census.
9.  I was surprised and actually pleased to discover that I have a black sheep ancestor, at least sort of.  He was sued for support of a child and its mother, just about the time he was marrying another woman.  Later the obligation was retracted in court (and I still want to know the whole story!).
10.  And the last one isn't about ancestors really, it's about what "doing genealogy" has brought us.  It is a constant delight to have Pat as my genealogy buddy and now my blog buddy.  Our friendship of more than 40 years is as good as it gets; we are real family even if we don't share any blood.  Let it be noted here that Pat does all the bloggy stuff for this joint venture.  She got it up and running and knows how to drive it far better than I do.  She always helps me get things straight,  "No Judy, the button to the left, no, the other left"  You know what I mean. I just write.  I like to tell stories and philosophize a bit here and there and Pat makes that possible for me.  Judy is is right about being family; we may have to add something about that in our description of the blog.  Together we manage to get something written and posted, pretty regularly.  If left up to me, a blog would still be a good idea waiting to happen – Judy was so enthusiastic that I had to make it happen.  Doing it together is a real pleasure.
And we hereby pass the award along to (in no particular order):
1  Roots'n'Leaves
2. Genealogy Traces
3. The Photo Detective
4. Tangled Trees
5. Granny's Genealogy
6. Tracing the Tribe
7. Geneabloggers
8. Jasia at Creative Gene
9. Craig at GeneaBlogie
10. AnceStories