I'm taking a brief side trip today, based on the report of Laura Denman Booth (as last posted) about stopping to visit, stay for awhile, with her relatives in Illinois outside Chicago.  This was the Stephen and Ann Denman Townsend family.
When I read that portion of Laura's memoir and figured out who the family had to be, I went looking on the Bureau of Land Management website to see if I could find them buying land in Illinois and, voila!, there they were.  By looking for original patents, which are the first sale by the federal government to an individual, I found Stephen Townsend purchasing 4 pieces of land in township 41N in Dekalb County, Illinois, between September 1845 and December 1850.  He ended up with 160 acres, buying 40 acres at a time.  Townships were squares, approximately 6 miles on a side, divided into 36 sections one mile on a side.  This article on rootsweb.com describes the Illinois system.  When Stephen had purchased his 4 parcels he had the equivalent of a quarter section, spanning 2 different sections.  This map shows the location of the first quarter of a quarter he purchased: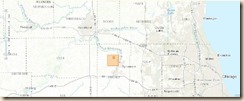 A biographical sketch of the Townsends contained in a book titled Past and Present of Dekalb County, found on ancestry.com, recorded that most of the Townsends migrated to Dekalb County in 1840.  Since both Stephen and his father Joshua Townsend were enumerated in Neversink, Sullivan, New York for the 1840 federal population census, they must have left after June 1, 1840.  Stephen's brother Charles was said to have gone first, in 1837.  (Charles is found in the 1840 census in Illinois with a wife and young daughter.)  In 1840 Stephen and his wife Ann and their 5 children, along with father Joshua and mother Phebe, headed West.  They traveled in wagons pulled by teams and the trip is said to have taken several weeks, given slow speeds and often-poor roads.  Thus, Laura's description of them as being pioneers and as having experienced the difficulties of taming new land rings true.
What isn't clear yet is what drew them to move when they did and to where they did.  Certainly the federal government was willing to sell some of its land.  In 1830 Congress had passed a Pre-emption Act which granted settlers the right to purchase at $1.25 per acre 160 acres of public land which they have cultivated for at least 12 months (protecting squatters to some extent but also setting a price and amount of land).  This, with the opening of the Erie Canal, opened the Illinois priarie lands to easier access.  A map of the land cover of Dekalb County in the early days seems to show that the Townsends found rich bottom-land to buy, which supported their agricultural efforts.
This is a family I wish I knew more about.  It seems that they settled into Dekalb County, Illinois and contributed to their communities.  If there are any Townsend/Denman relatives who know additional details, I would love to hear from you!