Happy New Year everyone!  Here's to a wonderful year for all of us!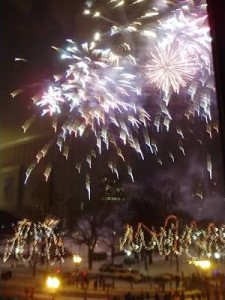 I just briefly scanned my last year's January post and see I have not managed to focus on at least one of the goals I set.  Specifically, I have not managed to pursue my Boothby line, nor have I done much in the way of learning about doing research in Maine (where that family started out in this country).  I'm not sure what prevented my doing any of this.  I did spend more time on DNA testing, my own and getting others to test, including one male Boothby cousin this past summer and am now awaiting autosomal test from a female Boothby cousin.  I hope to learn to use their results in combination with my own and my siblings to begin to see where my chromosomes have come down from the Boothby line.  Also I hope to connect with other Boothby relatives who have tested.
One relatively easy task on my list: I want to go through the rest of Laura Denman Booth's memoir and outline the rest of the posts to write from it.  She wrote so descriptively about many of her early experiences and I want to be sure to cover them thoroughly.
Of course, I will continue to work away at organizing my genealogy computer files.  I have made progress in 2016 on this task but it *still* isn't done.  I have 2 more surnames in my family lines to work on when I finish the one I started recently.  That doesn't count the surnames for my research into my husband's family lines.  Oof!