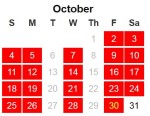 For October, I want to report that I tried and really liked the 25 x 25 challenge I set for myself at the beginning of the month.  I found the tracking calendar that is at Don't Break the Chain (you can see what mine looks like today – when I've done today's 25 minutes I will have completed 21 days in a a row!) and between the reward of checking date boxes off and using my 25 minute timer on the computer I was able to get almost all of both wills transcribed.  I successfully completed the transcription of the William Denman will and have given a copy to the Suffolk Family History Group.  This local society keeps a will store of such documents and makes them available to members.  I have almost finished the Michael Marten will as well, having only a few places left where I am having trouble deciphering the handwriting (or don't know the term being used).  I may elicit the aid of the volunteer at the Suffolk Family History Group who maintains the will store presently for these last bits.
I haven't done as well on adding the information from my Salt Lake City trip to Evernote.  I have several pages of names and microfilms I looked at that I still need to add to Evernote so I have a research log of sorts to tell what I looked at and whether I found anything.  I realize that negative findings (looking and not finding) are important, so I need to do this.  I plan to do another 25 x 25 challenge in November to work on this specific project.
The other project I have started and hope to finish in November (maybe in time for Veterans Day) is tracking down any Salt relatives who might have served in World War I.  I am in the middle of locating all the registration cards as my first step, and looking for both WWI and WWII for each person.  In creating the list for this I learned how to use RootsMagic to limit a report to give me just people born in the right time period and with the Salt last name.