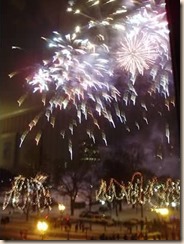 Welcome in 2016!  It is going to be a great year for genealogy, I am determined.  I have a couple of large goals, the first being to finally connect the English Denman family "dots" to learn who the parents of my emigrant ancestor, William Denman, were.  I hope knowing more surely who his parents were will help connect that family with the other Denman lines in Sussex and tell me just how I am related to two present-day Denman cousins.  This was a goal for 2015 and I failed to reach it, although not for lack of trying.  The evidence that is needed is difficult to come by, and some of the primary evidence may not exist at this point.  In service of this quest, I did start the process of convincing a male Denman cousin to do a yDNA test; unfortunately he has a lot of more important life stuff to deal with currently and I'm not sure he will agree.
My related goal is to acquire the will for William Boorman, father of my emigrant ancestor, Ann Boorman Denman.  I will transcribe it for myself, however I seem to remember a Boorman researcher noting that William mentioned his daughter Ann Denman who had migrated to America.
Organizing is always on my list of goals and this coming year is no different.  I will continue to chip away at re-naming files and Evernote notes in a consistent way that seems useful (last name, first name, date and event).
My other larger goal this year will be to follow my Boothby family line, which I haven't spent much time on lately.  I was just inspired by discovering that the Maine Registers of Deeds Association has a web portal for accessing all counties digitized land records.  The NEHGS blog, Vita-Brevis, just had a posting about this and I immediately checked it out.  I'm not up to speed on researching in Maine, even though I've done a research trip visit, and this is a resource I didn't know about.  For my Boothby line I need to make the direct connection back to Maine, which is where they seem to have come from.  I only have them in Ohio so far.
As usual, there is plenty for me to do and to learn.  I wonder what I'll end 2016 having accomplished?