Well, March neither came in like a lion nor left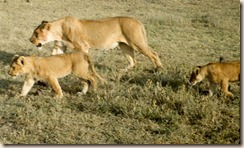 like one, but I do like these lions so here's a picture of lions on the move as April moves in.
March saw me plugging away at cleaning up one of my surname computer folders.  I am always surprised at how much time and work it takes.  If only I kept them in organized shape in the first place!  Anyway, I am working on the Salt folder.  I have renamed everything that hadn't been already filed in a sub-folder, and now am working on each sub-folder (Births, Marriages, etc.) to be sure files are consistently named.  Since I have a project that involves the Salt family line, I am going to follow through and get each folder and file organized or renamed and then the information attached to the RootsMagic database in the appropriate way.  Obviously the way I should be working all along, and not the way I work at all.  This is why I have so many files that duplicate others (can you say re-invent the wheel?) and that have information or evidence about people that isn't included in my datebase, so that when I look at my tree I don't know I have evidence to support an event.  Bad Pat!
I have also made a good start on the next new family tree – there is a family wedding coming up in October and I thought I'd get a good head start and hopefully not be driving myself crazy at the last moment.  Both families are local to me, so I hope that will make it easier too.  And it appears that in each there is at least one genealogist already, so that is fortuitous.  Any suggestions about how to turn this new tree into a suitable-for-hanging graphic will be gratefully received.
Finally, I just barely got started on transcribing my William Boorman will, so that is a big goal for April.  This will be another 25 minute a day challenge I think.  The handwriting is not all that easy to read and the file is a little fuzzy.   So challenge it is!  Update next month.