Pat and I are getting ready for another adventure at the Connecticut State Library and Archives in Hartford.
My goal in Hartford is to continue to learn about the Davies family of New Haven.  You can read about the Davies mansion here.  This time around I am hoping to finish looking at John Davies' will and to trace the ownership of the Davies property back another generation or two.  Pat has other goals and will no doubt tell you about them when she posts an update on our trip next week.
We have improved our already wonderful trips to Hartford by renting a hotel room and eating and drinking a lot after the Library closes.  It's so much fun to combine my two favorite things—genealogy and eating and drinking a lot.
My computer has been covered in plastic all week as we are having a lot of work done on our house.  I have no access to my boxes of stuff and only limited time to look at my genealogy database, so I am reposting the story of our first wonderful trip to Hartford.
Pat and Judy Go to Hartford
Judy wrote this and sent me the draft to look at and I couldn't resist adding my own comments.  She was nice enough to say she liked them, so they're still here.  I am putting my words in italics so you can tell the difference – as if we didn't sound different enough anyway.
Pat and I went to Hartford a couple of weeks ago.  She came west; I went east [actually it was north and east and I went south and west]; we met in the middle [well, it isn't exactly the middle but who's counting?]. To be more specific we met at the Connecticut State Library and Archive.  This is what the very impressive front of the building looks like.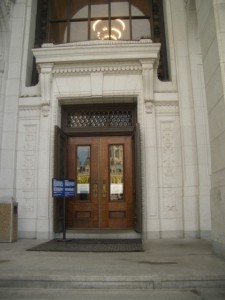 It was a magic day from start to finish.  The weather was good, [it was a gorgeous day, and we didn't get lost getting there], we found parking easily, and then there was the library and the librarians.
I don't know why I haven't been in this place before.  It is chock full of wonderful things, mostly Connecticut things, but some for the rest of New England as well.  There are plenty of microfilm readers, all in working condition and set so it isn't necessary to crane your neck at a 50-degree angle to see the screen.  There is a scanner that allows you to take digital images of microfilm records and save them to a flash drive or email them home. I made a living on that scanner.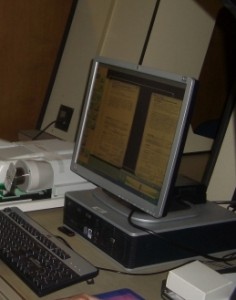 This is a picture of our favorite microfilm scanner; Judy did actually let me use it at the end of the day.  I just love being able to take home digital files of my finds.  Now I just need to transcribe the estate papers I found.
For me the second best things were the probate records and the land records.
The best things aren't things, they're people, the wonderful librarians who inhabit the place.  They are extremely knowledgeable and eager to share that knowledge.  I received many helpful suggestions for my research.  Equally amazing to me was the patience exhibited by everyone with whom I had contact.  From making the equipment work to finding records they were unfailingly kind and helpful.  They were wonderful.  And very willing and able to orient us to the collection.  I even got a quick tour of the stacks, which are open, at the end of the day.  This went beyond what I expected. 
I am not a patient person.  When I asked a librarian where the land records were located she did not reply, as I almost certainly would have, "Try over there under the extremely large sign that says 'LAND RECORDS'." No, instead she led me the twenty feet across the room, probably convinced that I wouldn't make it on my own, and showed me the cabinet with the microfilm.  "What town are you interested in?" she asked.  "New Haven," I replied.  "They're right here," she said, not adding, "In the drawer with the large label that says NEW HAVEN."  Then she said the magic words, "Some of the records are indexed.  Oh look, New Haven is indexed.  Let me explain how the index works."
I have been waiting hundreds of years, maybe longer, for the records I want to be the ones that are indexed.  I'm sure every genealogist knows the feeling.  My records are never the ones that have been indexed.  My records are the ones that require me to look through miles of microfilm to find them and once found they are the ones that broke the camera, were poorly filmed, with terrible contrast, or simply the ones with the words "missing page" where they ought to be.
What did I find?  If you read this blog regularly you know of my obsession with the Davies mansion and the people who lived there.  If you're not a regular reader and you're interested try this link to my earlier post.
My main interest was the Minor family, that first settled in Connecticut in the middle 1600s.  Great-great-grandpa Charles Minor was allegedly born in Meriden, Connecticut in 1837 but he doesn't show up in the Barbour Collection there or anywhere else, which he should.  I was hoping to find some record of him and his family.  I started with wills and estates, looking for the earliest family members and hoping to be able to then trace forward.  I know this is backward, but I can't resist. 
I now have scanned copies of about 65 of the 167 pages of John M. Davies will and probate records.  I'll go back and copy the rest of it soon.  I scanned several probate and estate records for Minors and was excited to find one for G-G-Grandpa Charles' own G-G-Grandfather Daniel (my 5th great grandfather) with names of his children and wife.  There are more to get, and I haven't touched the land records yet.
The land records showed me John Davies purchase of the land where the house now stands.  He bought the land from Cornelia Hillhouse.  The name Hillhouse means little if you're not from around here, lots if you are.  This is a very old and historic name in both New Haven and Connecticut.  You will be hearing about this in future posts, so I will just say that Hillhouse Avenue in New Haven was once referred to by Mark Twain as "the most beautiful street in America." It's still high on the list in my opinion.
It was difficult to tear ourselves away, but when we reached the point that our bodies were starting to digest themselves we stopped for lunch.  We asked the librarians if we could leave our stuff strewn about for a little while and get some lunch.  They not only let us leave our stuff piled on tables, they directed us to a fast lunch place.  We sat and enjoyed each other's company for a bit and then hastened back to work until they gently pushed us out the door, as they shut the lights off.  My request to move in was gently but firmly denied.  We'll be back.
We actually did go back a second time, and I expect we will become regulars.  Too bad they won't rent us cots for a week or two.