As I said I was going to in my August To-Do list, I went on a short road trip with my sister to Maine.  My main goal was to begin to explore the resources available in Maine for researching family history and genealogy.  Before we left I developed a tentative itinerary and time-table.
Based on scraps of information about our Boothby line and where they likely had been in Maine, I wanted to see what we could see or find in the Scarborough area.  From my online searching I knew that there is a Scarborough Historical Society and Museum that I wanted to explore.  A short phone call to the Scarborough Town Hall confirmed that the Historical Society was the place for me to look for information.  I was told that for vital records created after 1892 the Town Hall should have the record and will search it and copy it for you.  Before 1892  they have some of the records but not all.  Since I am interested in the early 1700s to about 1800, and I wanted to see the records for myself, the Historical Society it was to be.  I also hoped to find an old cemetery to wander.
The other location I decided I needed to explore was the Maine State Library and the Maine State Archives .  These are located in the same building in Augusta.  Based on the time we had available and the driving times, it seemed that Scarborough and then Augusta were about all we could do in this trip.  Plus there were things my sister wanted to see and do that weren't genealogy-related.
I have to admit that I was not fully (or anywhere near fully) prepared for this trip in terms of knowing what specific records or information I wanted to look for.  So, for example, just before we left I found a Find A Grave entry that may be our ancestor Samuel Boothby in an old cemetery in Portland.  Did I know where it was or how to find the stone that is pictured on Find A Grave?  Did I know anything about where the records, if they exist, for this cemetery might be found?  No!  I also found a family tree for this Samuel on Ancestry.com, so I printed out the family group sheet to take along as possible hints about our family.
Here is what we did – from the genealogical perspective.  We drove up to Scarborough and found the Scarborough Historical Society.  Luckily our planning had allowed for a visit there on the one morning a week they are normally open (which is Tuesday for anyone who is interested).  It was easy to find, right on Route 1 next to and slightly behind the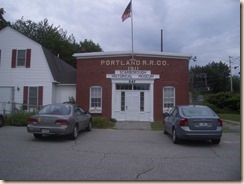 Dunstan Fire House as they describe on the website.  The building is a neat old place and there is stuff everywhere.  The Museum is connected (the white building to the left and also had lots of stuff.  I was so taken by the people and the resources in the Society, however, that I never really got a good look at the Museum.  I definitely need to return.   The collection of what the Society has is not really catalogued formally (i.e., there is no online catalog and I don't think there is a paper one in the building) but the group of people who were there working that morning were all very knowledgeable and helpful.  A lovely woman named Sarah took us in hand and started providing folders of papers and books and pictures for us to explore.  They don't have the original vital records there, but they do have microfilm and books of transcriptions from the microfilms that go back to the earliest days (some into the late 1600s and more from the early 1700s).  I was able to find the transcriptions of the baptisms of the children born to Samuel and Esther Boothby and the transcriptions showing my Josiah Boothby's two marriages, first to Betty Beard and then to Sarah Stuart.  I did not find records of any of Josiah's children, nor of the death of his first wife (presumed to have died).  I found the burial of Esther, wife of Samuel Boothby.  I did not find any record of Samuel and Esther's marriage.
When the Society folks finally started closing up for the day, they directed us to the Saco public library and the museum next door to it.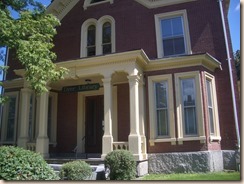 The Dyer Library in Saco has a Maine History Room which is a repository for more historical and genealogical resources.  The Saco Museum in the York Institute building had a well-done exhibit on the Civil War from the perspective of a local man who served in it.  The Roy P. Fitzgerald Maine History Room is staffed by a group of volunteers who are both very knowledgeable about local history and families and also very helpful to researchers who wander in.  I was very excited to find books that collected deeds for York County, and found a couple involving a Henry Boothby and a Richard Boothby in Wells.  It is not clear at this point exactly who these Boothbys are.
In between repositories and lunch and walking and coffee with a niece we did find time to wander through the old Dunstan Cemetery in Scarborough and locate a number of Boothby stones.  None of these are our direct ancestors and I don't yet know who they all are, but I got pictures and a listing of all the Boothbys from a work that had transcribed all the headstones.  There were also a number of Snows (another family line for us), so I took some pictures of some of them too.  I don't know of any of our line of Snows who migrated to Maine so these may not be relatives.
Then we headed for Augusta.  Even though I was not as organized as usual about knowing exactly where we were going, we found our way with little trouble or backtracking.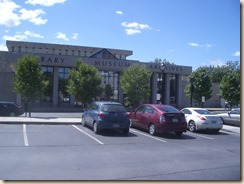 My photo shows the front of the building both the Archives and the State Library are housed in, and the convenience of the parking lot.  I was impressed.  The Archives requires a Research Room Privileges card so we both filled out the short form and provided picture ID to establish our credentials.  I spent a couple of hours browsing through microfilm looking for our Boothbys in the Kittery vital records – hoping for the marriage of Samuel and Esther but not finding it.  I now wish I had spent some time with the Scarborough films since it was very easy to make printed copies of pages.  I did look quickly at a film of some Saco records as well, though didn't find anything.  My sister, in the meantime, had gone up to the Library and was browsing the collections there.  (There may also have been a short nap involved.)  My two finds were the record of Thomas Boothby and Lydia Cane's intention to marry, in 1725, and Thomas's will in a book of Maine wills.  No will for Samuel.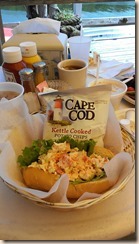 Our last day in Maine was spent doing a leisurely drive over to the coast from Augusta to Boothbay Harbor and then a lovely morning of wandering in Boothbay and having lunch where we had a great view of the waterside.  We watched kayakers and paddle boarders go out and come in, and enjoyed the beautiful sunny summer day.