My daughter is the captain of a tall ship. She has been sailing on tall ships for seven years and has worked her way up from trainee to deck hand to captain. She has circumnavigated the globe and visited places I only dream of and now she has her first captain's job. We are very proud of her, but she is not the first female captain of a sailing vessel.
That honor goes to Elizabeth "Betsey" Miller. She is the first woman listed in the British Registry of Tonnage as a captain. Perhaps the most amazing thing about Betsey's story is its date. She became the captain of a commercial sailing vessel in 1839.
1839? Victoria was Queen of England, William Peel was Prime Minister and Martin Van Buren was President of the United States. The next year Lucretia Mott and Elizabeth Cady Stanton would attend the International Anti-Slavery Conference in London. The possession of two X chromosomes would prevent them from serving as delegates. Eight years later, in 1848, they would call the first Women's Rights Convention in Seneca Falls, New York. By then, Betsy Miller had been the Captain of the Clytus and owner  and manager of a small business for nearly 10 years. How could this happen?
Betsey Miller was born in 1793 in Saltcoats on the Ayrshire coast of Scotland. She was one of eight children of William and Mary Miller. William Miller was a ship's captain and a merchant in Ayrshire. He salvaged a French sailing ship and fitted her out for use as a "coaler", bringing coal to Ireland and limestone back to Scotland. He always planned to have his son Hugh take over his ship and his business, but fate intervened when Hugh was drowned in an accident in Androssan harbor in 1837.
Captain William continued to try to sail as Captain with Betsey beside him as a "seaman", but his health was poor and the company's debt mounted. By the time William became completely disabled the family's debt had risen to a hefty 700 pounds, more than half a million dollars in today's U.S. currency.
Many thought that a male captain should be hired, but somehow Betsey convinced her family to let her take the helm. In 1839 Betsey took over as Captain of the Clytus with an almost all male crew. Her sister Hannah served as her mate. It would prove to be the best decision the family could possibly have made.
Betsey became a much-respected mariner and was renowned in many parts of the world. Far from being disdained as a woman she was known for her fearlessness. I quote here from Ayrhire historian Joan Biggar,
"In those days, it was a custom to place lighted candles on the window sills of houses overlooking the sea. This was not for the romantic notion of guiding wandering sailors home – its purpose was practical, a way of identifying the direction of the 'carrying wind' and its strength.
If the wind from the sea was strong enough to blow out the candle flame, the 'carry' was in the wrong direction for any sailing ship heading for the coast of Ireland.
In such cases, most local captains retired to their favourite taverns and drank until the weather suited them better. Not Betsy!
She boasted: "I don't wait for the carry!" While the more cautious masters lingered in Saltcoats, waiting for the wind to change, they were losing trade to the sturdy Clytus, a ship that had been made from scrap wood, with a woman at the helm."
One would think that the male dominated world of shipping, the strain of trying to pull her family out of debt, and the rigors of life on a sailing ship in the North Sea would cause Betsey to become a crude, unrefined version of her earlier feminine self. Think again. Betsey prided herself on being well dressed for all occasions and is said to have worn a clean, white, frilly cap every day she sailed on the coal ship. My favorite Betsey story has several often-repeated versions. This one is again from Joan Biggar.
"On one occasion, when the ship ran into severe weather off the coast, Betsy told the crew: "Lads, I'll gang below and put on a clean sark, for I wid like to be flung up on the sands kin' of decent. Irvine folks are nasty biddies."
Betsey wasn't thrown up on the shore. She lived to clear the family's debt and provide a good income. She retired to her house on Quay Street at the age of seventy turning the Clytus over to Hannah. Betsey died in 1864.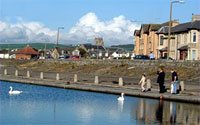 Hannah continued to sail the Clytus for some years and died in 1890. The ship was sold and continued its runs between Ireland and Scotland until 1900.
Hannah was the last survivor of the Miller family. I am pleased to know their story and to share it. These women who successfully defied all stereotypes should not be forgotten, they should be a source of inspiration for a young generation of women sailors.
———————————————————————————————————————————————————
Images of Betsey Miller, the Clytus, and Quay Street are reproduced here courtesy of Visit Sailcoats.