I have two pictures of my great-grandparents, Mendel and Lena Silverman with my grandfather and his brother dressed in Russian Cossack outfits.
These are not two different pictures; they are the same picture pasted on different card stock from different studios.
Here is the photo I showed in The Silvermans Come to America.
Decreasing the quality of the image shows that this photo was taken by George H Rosenblatt, 202 Broadway, New York.
Here is the second copy.
The back of this photo is in Russian.  A friend translated it for me.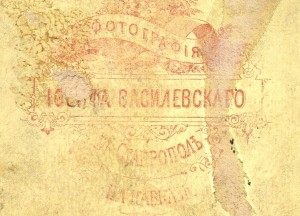 It says photograpgic studio of Josef Wasilewski, Stavropol, Kavkaz.  Stavropol is the city where my great-grandparents lived.  Kavkaz is the area like a state or province.  Tiny letters at the bottom of the back of the photo say Trapp and Munch.Wien

I have figured this much of the mystery out .  Trapp and Munch were the papermakers, located in Vienna.
This photo was taken at about the time the family emigrated, so it is possible that it was taken in either country, although I do find it hard to believe that they brought the Cossack outfits with them.
There is one more interesting bit. At the bottom of the front side of the photo with the Russian studio information in very small red letters it says  J.Wasilewski–in English.

Why would a Russian photographer have his name in English on the front of a photo?
So, I am left with a mystery.  Where was this picture taken?
Any ideas?