As I said to my walking buddy this morning: I wish I had known about this line of nonconformists in my college days. I was a child of the 60s. I would have loved it. And yes, I do make her listen to some of my genealogical trials and tribulations even though she isn't one of us. I do try not to bore her too much or too often.
In trying to verify the marriage date and place of my 4g-grandparents, William Denman and Ann Boorman, I have discovered (re-discovered in Ann's case) that they came from Nonconformist, or General Baptist families. They were not Church of England. In fact, Ditchling, where William was reportedly born is said to have been an important center for Baptists in the wider area in the 18th and 19th centuries.1
I say re-discovered in Ann's case because I had been told that by a correspondent from Staplehurst, Kent, England several years ago. This woman had told me that: "The Boorman family were nonconformist, therefore children were not generally baptised, only (sometimes) appearing in parish registers as "born". Weddings were often by licence so that they could avoid having banns called for 3 weeks before a wedding and were often not held where you might expect to find records of them."2
So what information about William and Ann's marriage do we have? The most prevalent is that they were married 24 Jun 1790 in Headcorn. This appears in a family group sheet in the Family History Library and in any number of family trees online. I have a copy of that family group sheet. It records that the information on this family record was obtained from F.A. Denman of Wakeman, Ohio, great grandson of the Wm. Denman who heads this family. F.A. Denman was my great-grandfather. This information is also now available on the website familysearch.org in several places.

As I wrote a few weeks ago (this post), I had always accepted this date and place as fact until I started trying to document events for myself. While my correspondent from Staplehurst had the same information, she didn't have a source for it. When I contacted the Headcorn parish council the information I got back gave a different date but confirmed the place and provided some additional information, including that it was by licence and the names of two witnesses as well as a number (which I assume to be a registration number of some sort).
My online research and that of one of my Boorman researcher/relatives tells me that "From 1754 up to 1837 all marriages (with the exception of Quakers and Jews) had to take place in the parish church. Marriages of nonconformists during this period will normally have no indication of their nonconformity, though a marriage by licence could be an indicator of nonconformity."3  Further this licence, likely a general one and not a special one issued by the Archbishop of Canterbury, required an allegation4 be filed that the two desiring to marry were of age and had no known impediments to the marriage. A bond was also required that stipulated an amount of money which would be paid if it turned out that the marriage was against Canon Law.
A search on Ancestry shows two sources of extracted parish records which list William Denman of Hythe, bachelor, and Ann Boorman of Headcorn, minor, father William Boorman, 23 Jun 1790 at Headcorn. Since these are extracted records of Canterbury licences I suspect that this is the licence (meaning there should also be an allegation and a bond somewhere in the parish). Also if the licence was issued 23 Jun then the marriage could well have taken place on 24 Jun, the next day. This image of a page obtained from the Family History Library in Salt Lake City shows that marriage recorded in a copy of the Register of the parish of Headcorn from Lady Day 1790 to Lady Day 1791.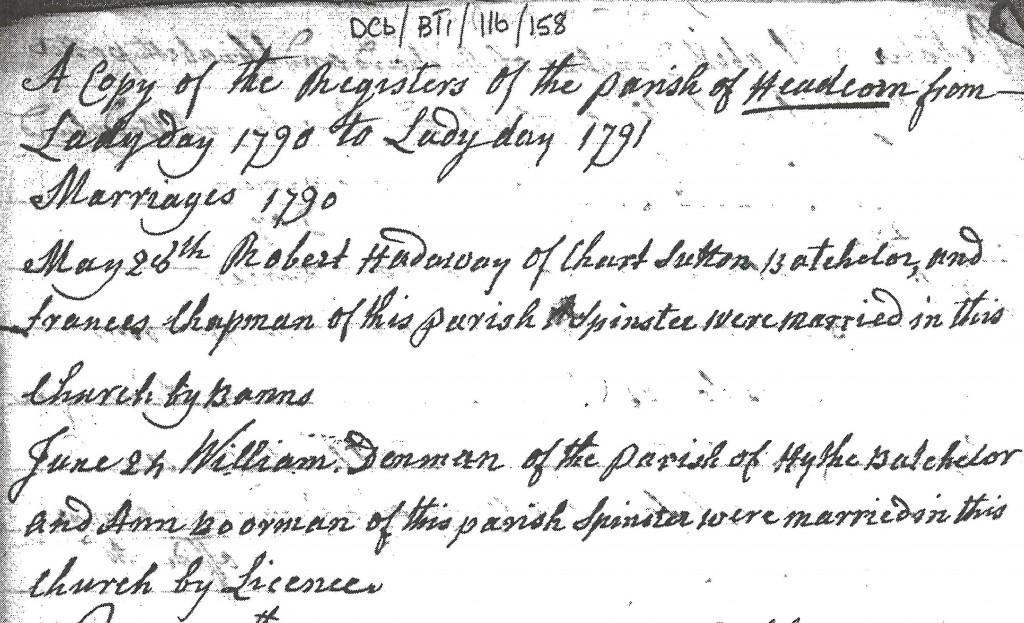 **********