They said it would never last.  They really did say that forty years ago when Norman and I were married and they had good reason.  We are very different people, different interests, different religions, and raised in very different circumstances by very different people. It hasn't always been an easy marriage and never a simple one, but it has never, not even for a single day, been boring.  We were both heavily influenced by our mothers; I'm sure we were also influenced by our fathers, but it is our mothers' ways that we remember most.
We lost both of these women in the last few months and I'd like to tell you a little bit about them and about us.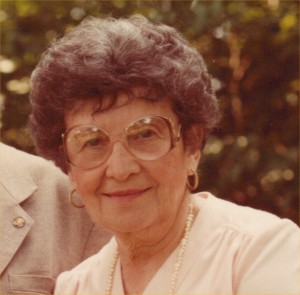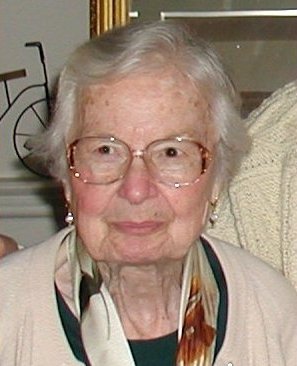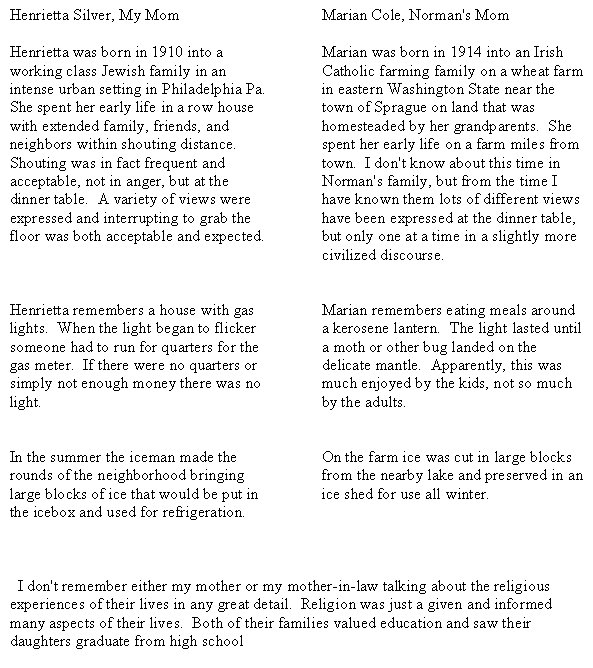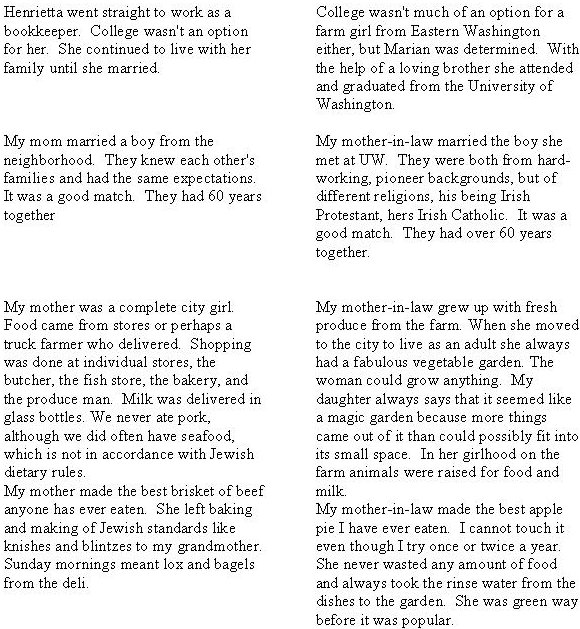 Both of our moms left their jobs to care for their families.  In this these two rather different women were quite similar.  They were devoted to their children and to their children's future.  Norman and I both remember knowing we would attend college for all of our lives.  We probably knew this in the womb.  The only allowable question was which college we would attend.  Our mothers worked tirelessly for our schools.  They were presidents of the Parent Teacher Organizations; always available to help in the classroom or with any extracurricular activities we might be involved with.
I remember a basement full of Girl Scout cookies when my mother was cookie chairman.  Norman remembers hutches full of rabbits for his brother's Boy Scout merit badge project and chickens for his sister's 4H project.  His mother dispatched them as necessary.  We both remember the many hours they listened to us read or helped us learn to write.
How did the children of such different backgrounds meet?  We met at college in Ohio.  It was the farthest west I had ever been.  It was the farthest east he had ever been. We both yearned for the experiences that were second nature for the other.  He took me camping, fishing, and boating.  I took him to New York and showed him how to master the subway.  We met each other's families.  He took me to the northwest where I thought he would kill us both when he stopped to eat wild berries.  My people knew that things that grew in the woods were dangerous.  Norman knew what wild blackberries looked like.  I found out what delicious means.  I took him to Philadelphia and taught him about lox and bagels.  He learned the proper protocol for ordering in a Jewish deli.  When we moved to New Haven years later he went to the local Jewish deli for the first time with our two young children in tow. He was obviously a stranger.  Half an hour later, having ordered properly, one thing at a time, and having schmoozed about our history with the owners, he belonged.  The children each left with a cookie in hand.  He says with pleasure that he can pass.  He can, his black Irish looks fit in and his manners are impeccable.  I have learned to fit with his family.  I do my best not to interrupt the speaker with varying degrees of success.  They seem to love me anyway.
We are grown now, both sixty, but all this recent loss has made us feel slightly adrift.  I think we will eventually be fine. We have each other and we were raised right.