When I thought about our visit to Texas as a genealogy trip, there were several things I wanted to learn.  Although my cousins and their parents, and my grandparents for the last parts of their lives, had lived in Texas it is not an ancestral location.  They were the first of our family to live there.  This meant that I had no urgent wish to visit an archives or library or courthouse.  However, my grandparents had died in Texas and been buried there.  I knew from www.findagrave.com what their grave marker looked like but I wanted to see it for myself.  I also wanted to discover where my uncle and aunt were buried and see their final resting places.  I had been told that there were old family pictures to go through and looked forward to that.  And lastly, I wanted to clear up some questions I had about my aunt's family.  Most importantly, the three cousins there had worked out a plan to get us all together for a day to eat and talk.  I wanted time with all of them.
Since this was the first time in 60 years that we had been to Texas, my sister and I also hoped to see a little of the area and do a tourist-y thing or two.  There was the San Antonio River Walk for example.  Maybe the hill country.  The missions.  Mexican food was high on my list.  It seemed as if there would be plenty to keep us busy for a few days.  So our plans started to shape up.
My grandpa Lyle and his wife Cena (as well as his last wife, Hazel) are buried at the Ft. Sam Houston National Cemetery.  This is a very large National Cemetery but we had the location information so we knew (at least theoretically) what we were looking for.  It turned out to be easier than we had feared (although huge, the sections and a few landmarks like chapels were well marked) and we had a map of the cemetery.  We had an interesting time wandering a little in the general area of grandpa Lyle's section.  Luckily my sister, and it turned out my cousin too, didn't have any objections to reading stones and thinking about the people and their lives.  Here are views of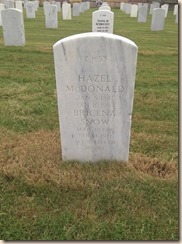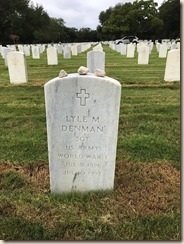 grandpa Lyle's stone and the back of it which memorializes his wives.
I think we were all struck by the number of service members who had served in multiple wars.  The majority we saw were relatively recent – from World War I to present – however there are reportedly much older sections since this cemetery and military base go back to the earliest days of Texas.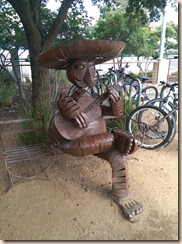 The Mexican food, in particular, came for lunch at the end of the River Walk and then again as brunch with the whole family.  Lunch was at La Gloria at the Pearl, and we had a table-top full of good things to eat and, of course, a margarita.  That truly felt decadent and like we were on vacation!  And of course the only pictures I took were of the decorations outside while we waited for a table.
The brunch was breakfast burritos and fresh tomatoes and avocados brought by my cousin to start our day together off.  What a treat!!  This is not your typical (or easily available) Sunday brunch in Massachusetts!  They also had the advantage of being pretty easily portable so we could wander around talking with various folks at the same time.  I can't say enough about the wonderful hospitality of all of my cousins in Texas.