We have the boat out of the water, the bathtub filled with water and everything off the deck.  There's enough peanut butter to survive on and the flashlights are ready and so we sit here in coastal Connecticut watching the winds pick up and hoping for the best.
We hope that our friends who live directly on the shoreline and who have already evacuated will return on Wednesday to find their homes intact.  I hope that this is not the storm when I lose the perennial argument with my spouse about taking down my favorite backyard tree.  He sees it as a menace to health and safety and I see it as the beautiful, iconic sheltering maple that everyone wishes they had in their backyards.
Our little town is already 25% out of power.  We are tiny and have no industry or healthcare facilities, so we are always the first to lose power and the last to be restored.  I am hoping to get this up today, if not you will see it next week.
Of course, all this makes me think of the weather events our ancestors survived without benefit of three days of constant updates from the weather channel.
In Sprague, Washington the Costellos and their kin survived the flood of 1909.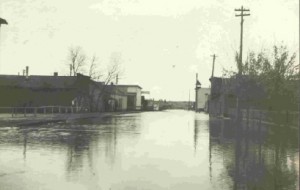 Our Martin relatives first survived the storm that sank their Great lakes schooner, the Jessie Martin, and then the 1894 flooding of the Willamette River in their new home of Portland, OR.
This from  the Oregan History Project,    "In late May and early June of 1894, the Willamette River rose well above 30 feet, flooding the central business district of Portland.  The water remained for days, inspiring some Portlanders to accept the situation with the humor as displayed in this shot of "hunters" taking aim at decoys floating down the street. "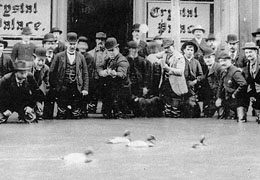 My Silver relatives got through the blizzard of 1914 in Philadelphia , not to mention the more recent "snowmageddon".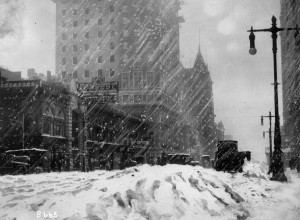 We do our best to create a safe environment.  Architecture, communication, and law have greatly reduced the loss of life from weather events, but mother nature still decides to do massive damage every once in a while.  I'm sure we will get through this year's hurricane.  I mourn the loss of lives in Haiti, Cuba and the Bahamas, and hope everyone on the East Coast has heeded the warnings and reached a safe place.  See you after the storm.