The title of this post refers to my great-aunt, Gertrude Silver, and I struggled to decide if the title should be a statement or a question.  I think I need a new punctuation mark, because the answer is a bit of both.
I've written about Gertrude and her husband Sam before.  Here is a brief synopsis.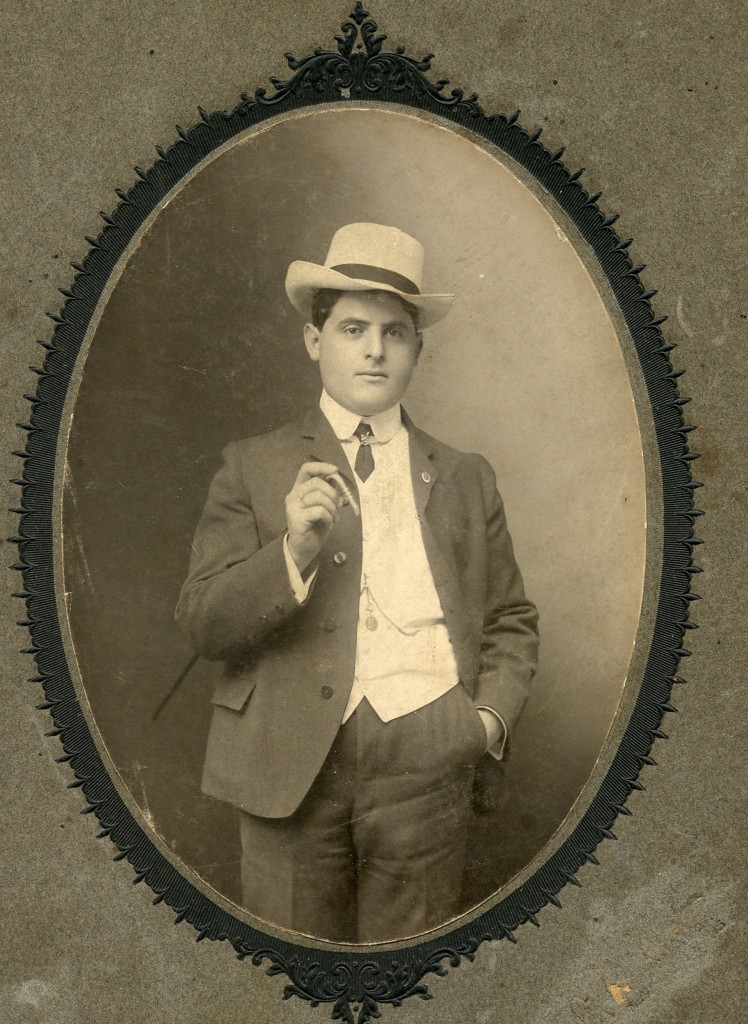 Sam Silver was 18 or 19 when he fought in the Spanish-American War.  When he left the army he went to New Orleans where he met the very young Gertrude Eliach.  Sam was about 23 and Gertrude 14 when they ran away to San Francisco and may have married.  At this point in the story my unromantic, pragmatic sensibilities say, "Gertrude, young, foolish, believing she was in love."  And what of Sam?  My best-case scenario is youngish, equally foolish, maybe in love.  Worst-case scenario, hm, I'd rather not go there. This is not a story I expected to end well.  But here's the thing, Sam and Gertrude stayed together for 22 years, until Sam's death at the age of 41.  They had four children, only one of whom, Joseph, survived until adulthood.  Gertrude's father died a few years after the marriage and by 1910 Gertrude's mother was living with the couple.  She lived with them the rest of their married life.  Even the cynic in me has to say, "If that's not love, what is?"
That's what I knew until recently.  I put Gertrude and her son Joseph on the back burner and moved on to other genealogical challenges, but Gertrude was always on my mind. Her story seems so moving and so sad.  An elopement that seemed likely to end quickly turned out to be the story of a couple who lived, loved and struggled together through hard times and so much sadness until Sam's early death.  I needed to know what became of Gertrude and Joseph.
Here's what I learned.  Gertrude's mother, Libby, died in 1935.  Gertrude and Joe buried her in Hollywood Forever Cemetery in Los Angeles.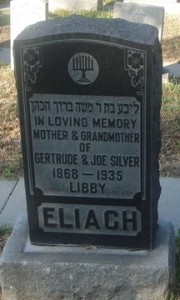 In 1934 Joseph married Beryl Reilinger. According to the 1940 census Joe and Beryl lived in a guesthouse run by Beryl's parents.  Their block in Los Angeles seems to be a long row of boarding houses and guesthouses.  The couple had a son, Stanley, who was four years old in 1940.
Gertrude married again in 1966 at the age of 73.  She married Louis Philipson, also 73.  The California Marriage Index lists the marriage twice with Gertrude listed as Gertude Chertin and Gertrude Eliach, her maiden name.  There is an asterisk next to the last names. Was Gertrude married three times?
Lou and Gertrude had seven years together.  Lou died in 1973, leaving Gertrude a widow once more.  Gertrude died in 1980, she was 93. Sam must be gone by now too, but their son Stanley is likely still alive.  There are lots of avenues for me to explore, but I doubt they will answer my real question.
I want to know if Gertrude was happy.  No, I want to know that she was happy, but I suppose I can live with the answer no matter what it is.  I need to find Stanley Lee Silver or I need him to find me.  I need to hear about his grandparents.  I know Stanley was married for a few years.  Are there children, Sam and Gertrude's great-grandchildren?
Stanley Silver was my father's name too. Stanley, where are you?