A few weeks ago I spent ten days in Georgia and South Carolina.
I love seeing new places and I love traveling with my husband.  We enjoy many of the same things and generally travel without friction.
We have forged an agreement that reads more or less, "If you don't insist on seeing the sewage treatment plant, I won't insist on seeing every bookstore."
We both love history and old houses so Charleston and Savannah were perfect for us.  I patiently stood by while N questioned all the guides on every construction detail of every house.  I didn't look in many stores, although I did have to be dragged out of the store that sells only cookbooks.  Shelf after shelf of cookbooks…
My patience was rewarded when we were walking by a lovely old church in Charleston and my husband said, " Hey, look, an old cemetery.  Do you want to go in and look around?"
I'll pause for a minute to give the genealogists reading this a chance to stop clutching their sides in laughter and resume normal breathing.
We spent a long time in several of the cemeteries and churches in Charleston.
I love the old tombstones and memorial plaques.  I love the fact that they have stories to tell and can find different ways of squeezing in the details.
Here are a few favorites. I am sorry to admit that I am not certain where all of these were taken.  Many are from the Circular  Church of Charleston. It was a vacation not a research trip.
It took all four sides of the monument of David Ramsay to tell his story.
Side 1 David Ramsay a native of the City of Charleston South Carolina, grandson of David Ramsay of that state; he inherited the endowments of his Grandsire. Born the 14th day of September 1830.
Side 2 Educated in the schools of Charleston.  He completed his collegiate studies at the University of Heidelberg, Germany. here his natural gifts of intellect aided by industry and stimulated by an honorable ambition, secured for him the highest honors of his alma mater.
Side 3 Returning to his native country he embarked in the practice of law and soon reached an honorable rank among the most distinguished of the profession.  fame and fortune seemed totally within his reach, when at the call of his country he repaired to the field of battle.
Side 4  There in —- battalion he fell mortally wounded gallantly fighting in the defense of battery Wagner on Morris Island on the 18th day of July 1863.  He died on the 4th day of August ensuing.  Aged 32 years 11 months and ten days.
I like George Macauly's monument as well.  Among his many virtues is that of " a kind and indulgent master."  I saw many similar inscription.  His slaves may have held a different opinion but their graves are not marked.  Times change, sometimes for the better.  Click on the picture to enlarge it if you want to see the rest of the inscription.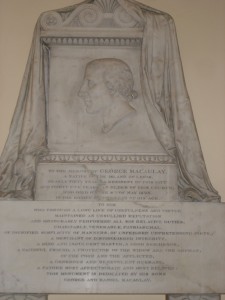 I just don't know what to say about this.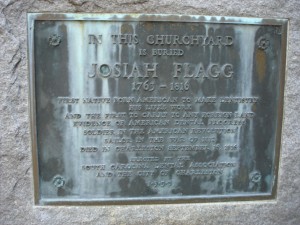 The inscription reads " First native born American to make dentistry his life's work and the first to carry to any foreign land evidence of American dental progress.  Soldier in the American Revolution, sailor in the war of 1812. Died in Charleston September 16, 1816.
There are more, but I'll end with a completely unrelated one.   How cool is this, the Google streetview cam.