My mother-in-law, Marian Costello Cole, graduated from the University of Washington in 1936.  She went off to San Francisco, rented an apartment with a friend,  and went to work. She stayed in San Francisco until my father-in-law came to marry her in 1939.  This has always seemed to me like quite an adventure for the 1930's  and I started to wonder about the history of young women in the workforce.
Of course, women have always been part of the work force. In the latter half of the nineteenth century women made up as much as 15% of the workforce, mostly as teachers or dressmakers, but a few as ship riggers and locksmiths.
By 1900 conventional morality dictated that a woman remain with her parents until she married an appropriate man, but in 1917 the First World War saw an increase in American production and an influx of women into factory jobs.  Secretarial and shop jobs followed quickly.  Young women left their small towns and headed to the big city for work. But where were they to live?  Certainly not on their own.  They needed a place where they could be protected and supervised after work, hence the birth of residences for young women.
I found one of our Cole relatives living in such a residence in Portland, Oregon in 1930.
Phyllis Cole is listed as a guest in a hotel on 10th street.  She is one of about 150 single young women living in the hotel.  Phyllis is listed as a saleslady in a department store. Her fellow guests were stenographers, clerks, waitresses and teachers.  Breakfast and dinner were generally provided and men were certainly not allowed above the ground floor common spaces.
In New York City the Barbizon Hotel was the most well-known ladies' residence. This was not a place for the poor.  Its illustrious residents included Grace Kelley, Sylvia Plath, and Joan Crawford.  The Barbizon started taking on male guests in 1981 and is now a condominium development.
Other unmarried, working women were housed by their employers. The house next door to my husband's Costello grandparents in Spokane, Washington was occupied by eleven teachers, mostly in their twenties.  An older woman listed as a servant lived with them.
Another relative, Bee Campbell, was a nurse in 1930 and is listed living in the Loma Linda Sanatorium and Hospital.  250 nurses, student nurses, and patients are listed as residents of the sanatorium.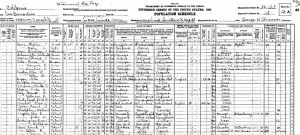 These residences are relics of a bygone era.  My unmarried daughter lives in an apartment that she loves and comes and goes as she pleases, but she might be a bit envious of some aspects of life in the last two women's residences in New York City.  Both closed in 2000, but until that time the terms of the lease included breakfast, dinner, and maid service for $600 per month.