There are lots of possible criteria for choosing which ancestor I'd like to have dinner with – my first thought was my brick wall great grandmother, Mary Elizabeth Hockman.  However, I've written several times about the obstacles I run into trying to track down just who she was.  Then it occurred to me: I haven't really written anything about my Salt grandfather, Henry Clifford Salt, who I never got to meet (my father only just barely got to meet him!).  So here is Henry Salt and what I have gleaned from records and then the questions I would like to ask him if only I could.
Henry Clifford Salt was the 2nd-born child of J. Clifford and Katie Coffin Salt, born August 1890 just 2 months after the death of their firstborn, Annie, at not-quite 2 years old.  Henry was baptized at St. Paul Episcopal Church in Newport Kentucky in 1892.  In 1893 his younger sister Susan Ruhama Salt was born in March and in July his father was probated to the State Hospital in Dayton as insane. Katie Salt was left with two very young children and a husband in a hospital some 50 miles away.  Henry was not quite 3 years old when he lost his father.  I am not clear that either he or Susan Ruhama ever saw him or visited him, although a cousin visited him on occasion.  This picture was made probably in that same year as their father was institutionalized.
Henry grew up on the family farm in Tate Township, Clermont, Ohio.  He and his mother and sister lived with his paternal grandmother, Ann J. Salt, who had been widowed young, until Ann died in 1905.  They stayed on the farm for some time after Ann's death.  When his mother and sister moved into Bethel Henry moved out of the parental home.  It was said that Katie waited until he was old enough to be on his own before moving into town for Susan Ruhama's education to continue.  By the time Henry was 19 he was working as a machinist and living in Cincinnati.  There he met his future wife, and in 1913 he married Carrie D. Boothby.  They moved across the river first to Dayton, Kentucky, and then soon to Augusta, Kentucky.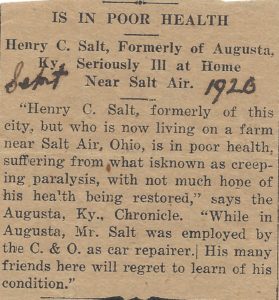 Henry worked as a car repairer for the C & O for several years while in Kentucky.  This information comes from a short newspaper piece published about his ill-health just a couple of years before his death.
The article notes "creeping paralysis" and the multiple page eulogy or intended death notice from his wife (I believe) also noted that Henry had been afflicted for four years before his death with an increasing paralysis that made him nearly helpless.  While the exact timing of the family's move back to Salt Air from Augusta is not known, I do know that my father was born in Salt Air in December 1918 on the family farm.  Henry's ill health also may explain the presence of Carrie's parents on the farm in the 1920 census with the young couple.  Henry would have needed help with the farm labor and Carrie might have needed help caring for him and a young toddler.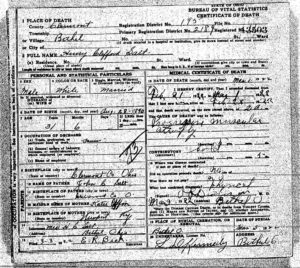 Henry died 1 Mar 1922, with his death certificate reporting "Progressive muscular atrophy" as the cause.  He was 31 years old.
While I have the basic pieces of vital information and evidence to support them, I know nothing about Henry as a person.  There were never family stories told about him and what he was like.  There are no diaries or letters from him.
If I could have him sitting at my dinner table I would love to ask him about himself and who he was as a person.  What did he like/dislike?  What was important to him?  Was he sociable?  Who were his friends?  Did he ever visit his father?  What man or men helped parent him (was it, as I think, his uncle Edward Wilshire Salt, Jr.?  And if so, were there others as well?)  What did his mother tell him about his father and his father's family?  I so wish it had occurred to me to ask my Aunt Susan, his sister, about him and about their growing up.  I wonder what she would have/could have told me?